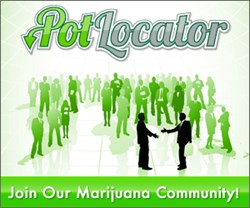 We are so proud to welcome Tacoma Aroma to our network of compassionate alternative patient services. We hope establishing a healthy and professional relationship will spread the PotLocator name throughout the Pacific Northwest region. -John Nicolazzo
(PRWEB) April 25, 2013
Today marks the addition of a brand new cannabis-related business to PotLocator.com's well-established roster of marijuana clients. For those who are unfamiliar with the PotLocator brand, it is a domain that is located within a network of professional services that are offered exclusively to the medical marijuana industry. A major subsidiary of The Medical Cannabis Network, this company has started its way from the bottom of the industry to establishing the PotLocator brand as a go-to-spot for medical marijuana patients in legal states who are searching for a safe-access point to medicine. Professionalism, compassion and legitimacy are the essential qualities of the foundation that this company was founded upon. With PotLocator, the patients always come first and foremost.
The recent addition to the PotLocator exclusive roster of medical marijuana dispensaries, smoke shops, hydroponics and marijuana attorneys is Tacoma Aroma located in Tacoma, Washington. Known by locals as the City of Destiny, Tacoma is Washington State's third-largest municipality and pays homage to around 199,826 residents.
Tacoma Aroma is best characterized as one of Washington State's premier medical marijuana wellness centers and has a brick-and-mortar location near McKinnley Avenue in Tacoma. This location is open seven days a week and operates during the hours of eleven to seven from Monday to Saturday and twelve to five on Sundays. This location has an absolutely stacked menu of medicines, all of which have its own specific medicinal properties to best suit a patient's personal health needs. With five different types of Indica strains, four different Sativa strains, and five mouthwatering hybrid strains, Tacoma Aroma has most definitely established itself as a key wellness center that can provide Washington medical marijuana patients with top-shelf medicine. This location has a very personable and knowledgeable staff of bud tenders who are readily available to answer and address any of a patient's personal concerns about medicine and what is best for a respective condition.
Although this location resides in the Tacoma area that does not mean that these exceptional patient services are only contained to this specific area. Tacoma Aroma extends and welcomes medical marijuana patients within the surrounding cities of Lakewood, Parkland, Edgewood, University Place, Sumner, Kent, Auburn and South Hill to experience what true compassionate health care really is. This wellness center can promise patients a comfortable and tranquil environment, so they can properly decipher which medicine can best alleviate that condition and meet any personal standards. Tacoma Aroma does not place a boundary on the spread of legitimate compassion.
It is evident that while many of PotLocator's competitors within the industry are slowing down marketing and advertising efforts in order to properly determine an attack strategy, PotLocator is not holding back for a single moment and continues to add as many reputable, legitimate and 100% legally compliant medical marijuana businesses to its compassionate canna-business network. Through an exceptional corporate pricing structure, costless and individualized services and a true love for the patients in the industry, PotLocator continues the rise to the top of the industry's list of new and innovative tech-savvy marketing companies.