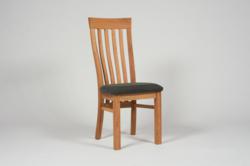 'This is the nicest furniture we have ever had' Positively UK
London, United Kingdom (PRWEB UK) 24 April 2013
When Positively UK, a London based HIV charity, set out to find a compact dining table and four chairs for their client space, they were pleasantly surprised. "We were happy to oblige," states Zack Newman, director of AFOBI London furniture shops. "We had some real leather dining chairs and upholstered chairs with non-matching fabrics left over from our website photo-shoot. By donating these to charity we are able to claim tax relief on the stock value. It is hard to sell mismatching bespoke dining chairs. The table was a little more costly to donate but it is a great cause so we were happy to help."
In the UK, donations to charity are deductible from the total profits of a business when calculating Corporation Tax. Many charities and businesses are unaware of the possibilities surrounding donations of their products. It is always advisable for charities to approach businesses to request donations before spending scarce funds. There are all sorts of reasons that businesses may be willing to make donations. A prime example is technology items such as computing equipment. Computer technology is constantly moving forwards and computers that are just a few years old are difficult for businesses to sell profitably. Rather than attempting to sell at a loss, businesses should always consider donating items to a worthy cause in exchange for some tax relief.
AFOBI is an online furniture business that retails various sustainable timber products including kitchen worktop surfaces and inbuilt wardrobes. So why did AFOBI choose to donate to Positively UK? "We consider ourselves allied with causes like Positively UK. They promote equal rights and we believe in caring for the environment. Both reflect a wish to make the world a better place for everyone. Discrimination and environmental destruction don't help anybody," says Zack Newman from AFOBI.
Positively UK is a registered charity run by and supporting people living with HIV. As well as providing support groups and information, the charity campaigns for political and health rights. Positively UK was very happy to receive the furniture. "This is the nicest furniture we have ever had," exclaimed Anjie Mailey from Positively UK upon delivery.
For small charities, free good quality furniture makes all the difference. So perhaps there is such a thing as a free lunch?
Notes to Editors
Information on tax relief for businesses:
http://www.hmrc.gov.uk/businesses/giving/companies.htm
Information on Positively UK found at:
http://www.positivelyuk.org/health.php