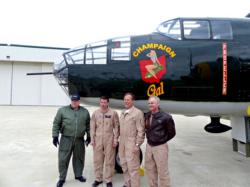 Muncie, IN (PRWEB) April 25, 2013
The Academy of Model Aeronautics' ambassador, Robert "Hoot" Gibson, was recently invited to speak at the Champaign Aviation Museum's first annual Capital Campaign Gala. The event was held on Saturday, April 13. As part of the festivities, Robert "Hoot" Gibson was invited to fly the museum's restored B-25 Mitchell. Those who attended the event also enjoyed dinner, music, and dancing.
The Academy is proud to have Hoot Gibson as an ambassador for the organization, comprised of approximately 154,000 members. As the Academy's ambassador, he includes his love of model avionics in many of his presentations, sharing how model aviation has impacted the world of full-scale aviation. He is devoted to the hobby and is proud of AMA's work to encourage education through aviation.
Hoot is well known for his many accomplishments, including five NASA missions, and more than 300 aircraft carrier landings. He has also been awarded the Defense Superior Service Medal, the Distinguished Flying Cross, and three Air Medals. He will be inducted into the National Aviation Hall of Fame in October.
The retired astronaut now lives in Murfreesboro, TN with his wife, Dr. Margaret Rhea Seddon. To learn more about Hoot Gibson, read his biography in AMA's History Program.
The Academy of Model Aeronautics, founded in 1936, continues to be devoted to national airspace safety. It serves as the nation's collective voice for approximately 154,000 modelers in 2,400 clubs in the United States and Puerto Rico. Headquartered in Muncie, IN, AMA is open to those who fly model aircraft for recreation and educational purposes.