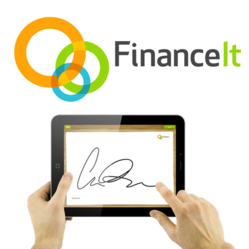 FinanceIt is one of the most innovative plays we've seen in the financial services space in a long time.
Toronto, Canada (PRWEB) April 25, 2013
Consumer financing software platform CommunityLend is proud to be named one of the Top 25 Up and Coming companies by the Branham300. For 20 years the Branham300 has been on the pulse of new, innovative technologies in Canada. In recent years, the Up and Coming Companies list has included the likes of Hootsuite, Rypple and Radian6.
In 2011, CommunityLend launched FinanceIt to give businesses the ability to provide consumer financing to their customers at the point of sale with no merchant fees and fair, transparent interest rates. Since launching, FinanceIt has signed up more than 2,100 businesses in the retail, healthcare, home improvement and vehicle industries across Canada - who together have processed more than $300MM in loans. In addition to their growth earning them a spot on the Branham300's Top 25 Up and Coming companies, FinanceIt was also listed as one of the Branham300's Next 50 Canadian ICT Companies.
"FinanceIt is one of the most innovative plays we've seen in the financial services space in a long time. They're in a position to shake up a very traditional industry," says Andrew Bisson, VP of Consulting, Branham Group Inc. FinanceIt works directly with the banks and financial institutions who provide the lending capital in order to give borrowers and businesses a single platform and brand experience.
"We're very excited to be named in the Branham300 and be part of a great group of companies," says Casper Wong, COO of CommunityLend. "There has been a lot of innovation in the payment space, and we're focused on the larger ticket transactions. FinanceIt is a supplemental payment method to credit cards that helps businesses close more sales and make more profits. We're working hard to improve the product and getting ready for a US launch sometime in early 2014."
About FinanceIt
FinanceIt is a sales financing tool for Canadian retail, vehicle, home renovation and healthcare companies that provides instant financing application approvals, a convenient online interface for submitting and tracking financing applications, and simple loan terms with lower interest rates than credit cards. For more information on FinanceIt or CommunityLend, visit http://www.financeit.ca. For media inquiries please contact Casper Wong at casper(at)communitylend(dot)com
About the Branham300
For 20 years now, the Branham300 has highlighted the top Canadian and Multinational ICT companies operating in Canada, as ranked by revenues. It illustrates the depth and breadth of innovative technologies developed in Canada and is widely considered to be a leading source of intelligence on Canada's ICT industry. The Branham300 list consists of the following major categories:

Top 250 Canadian ICT Companies
The Next 50 Canadian ICT Companies
Top 25 ICT Multinational Companies operating in Canada
Top 25 Up and Comer ICT Companies (category ranked on innovation/not revenue)
The Branham300 is published annually at http://www.branham300.com. Keep up to date with the Branham300 and Branham Group on Twitter at @branhamgroup, through Branham's Newsletter, or RSS feed.
About Branham Group Inc.
Branham Group Inc. is a leading industry analyst and strategic marketing company servicing the global Information and Communication Technology (ICT) marketplace. Branham Group assists ICT Technology companies and related institutions in achieving market success through its custom consulting services (Planning, Marketing and Partnering), and through its multi-client research subscription programs (Digital Health, Green IT and Cloud). Branham also produces an annual listing of the top ICT companies in Canada and monitors over 450 Digital Health vendors.
For more information regarding Branham Group, please visit http://www.branhamgroup.com.
For further information, please contact:
Andrew Bisson
Vice President, Consulting Services
Branham Group
613-745-2282 Ext. 117
abisson(at)branhamgroup(dot)com