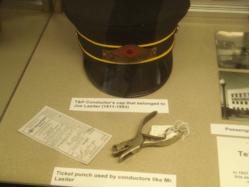 "Most people would be surprised to know that the railroad industry has existed in the area since the 1860s and that more than 20 passenger trains passed through one of the three active train stations on any given day"
Shreveport-Bossier City, LA (PRWEB) April 26, 2013
Shreveport Railroad Museum will have its official grand opening and ribbon cutting at 3:30 p.m. on May 11. The Museum will be open from noon to 4 pm. Tours of the museum and Shreveport Water Works Museum will be given during that time.
From Kansas City Southern to Union Pacific railroads, Shreveport has a rich railroad history that that dates back to the 1860s. The museum is the brain child of The Red River Valley Railroad Historical Society, Inc. which was founded in Shreveport, Louisiana in 1981 by a small but dedicated group of railroad enthusiasts.
The initial mission of the group was to establish a Railroad Museum and after more than 30 years there mission is complete with Shreveport's first and only Railroad Museum. The group realized how much of the railroad history of this area has been lost or forgotten and thought it pertinent to centralize whatever artifacts they come across.
On display are the maps of routes, artifacts, authentic documents, historic photos and even an actual operating model railroad. The Shreveport Railroad Museum offers memorabilia to transport you back in time.
"Most people would be surprised to know that the railroad industry has existed in the area since the 1860s and that more than 20 passenger trains passed through one of the three active train stations on any given day" said Shreveport Railroad Museum Curator Dave Bland. The museum's regular hours are Wednesday through Saturday, 10 a.m. to 4 p.m., and is located in the Shreveport Waterworks Museum located at 142 N. Common Street between Caddo and North Market Street.
For more information about Shreveport-Bossier attractions visit http://www.shreveport-bossier.org Photos are available on request. If you would like to get monthly updates sign up to receive the Shreveport-Bossier e-newsletter, Getaways by click here.