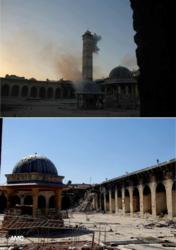 Washington DC (PRWEB) April 24, 2013
The Ummayad Mosque in Aleppo, a UNESCO World Heritage Site, was targeted by tank-fire, resulting in massive amounts of destruction to the interior of the mosque, and the complete destruction of the minaret.
The Ummayed Mosque lies in the heart of the city of Aleppo and was built in 715 by the Ummayad dynasty on the site of a Byzantine Church. It was damaged by a fire in 1159 and burnt by the Mongols in 1260. Both times, the mosque was rebuilt.
See: Syria Clashes Destroy Ancient Aleppo Minaret http://www.bbc.co.uk/news/world-middle-east-22283746
Yaseen Abu Raed a media spokesperson for Shahba Press in Aleppo said according to numerous eyewitness reports, the minaret was targeted by Assad regime tank-fire originating from the Saba'a Bahrat Circle near the mosque.
According to the BBC, some ancient artefacts have also been looted, including a box purported to contain a strand of the Prophet Muhammad's hair. Rebels said they were able to salvage ancient handwritten Quranic manuscripts and have hidden them.
"What we are seeing is the systematic destruction of Syria's history by a regime that has no regard for humanity, let alone Syria's proud historical legacy," said SEO Chairman Mazen Hasan. "This behavior from the regime was seen previously with the destruction of the Omari Mosque in Deraa over a week ago by Assad tanks.The destruction of numerous other mosque's throughout Syria have been documented. We have demanded, and will continue to demand the protection of Syria's historical sites, and ask that the Assad regime be held accountable for their role in the deliberate damage and destruction of Syria's historical sites" said Hasan.