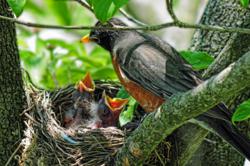 USDA Cutest Bird Photo Contest Winners for March 2013
(PRWEB) April 25, 2013
A nest of adorable robins and a bright red hen are the winners in the USDA Cutest Bird Photo Contest for the month of March. Andrea Everhard of Berlin, NJ and Amy Erickson of Manhattan, KS are the winners in each of two categories in the Biosecurity For Birds competition.
Everhard's photo taken from her bedroom window of robin mom and two hungry babies won in the category of Cutest Bird Family. "This little family was a daily joy for weeks as we watched the mother build the nest, hatch the eggs and feed the babies," said the delighted winner. "But then one day, we looked out and the nest was empty. It broke my heart."
She is convinced, however, that robin mom and dad have reestablished a home somewhere safer. "That consoles me." It is also a cautionary tale for any bird lover, particularly those who raise backyard poultry. Be sure that the birds are protected on all sides and above from hungry predators.
"Big Comb," a member of Erickson's in-law's flock of backyard poultry, won the Cutest Bird category. "I love birds and I enjoy photographing them," she said. She took a number of photos of the nine birds among the flock in her in-laws Dave and Patty Verner's backyard. On a bright day, with the sun shining on her feathers, Big Comb was a stand out.
A graduate student in wildlife biology, Erickson is turning her love of birds into a lifelong career. Her graduate project is the study of grassland birds and "I get to look at birds all day," she said with a smile.
The four-month Cutest Bird Photo Contest began in March. At the end of each month, the winning photos will be posted on the Biosecurity For Birds website. The winners will be considered for inclusion on the 2014 Biosecurity For Birds Calendar. For an entry form, contest rules and more information, visit https://web01.aphis.usda.gov/biobird_contest.nsf/contest_entry?OpenForm.
The Biosecurity For Birds program, begun in 2004, is designed to educate backyard poultry owners and bird enthusiasts about highly contagious poultry diseases and other threats to birds. The program helps inform bird lovers how to prevent disease and tells them what to do if they suspect their birds are infected.
Media representatives may contact Joelle Hayden at joelle(dot)r(dot)hayden(at)aphis(dot)usda(dot)gov (301) 851-4040 or Pam Goldstein at pgoldstein(at)diversitymc(dot)com 973-377-0300, Ext. 14.