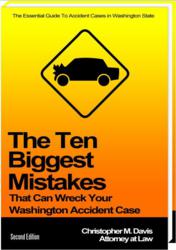 Seattle, WA (PRWEB) April 26, 2013
According to data from the National Highway Traffic Safety Administration, the summer months – the time between the Memorial Day and Labor Day weekends – have consistently experienced the highest average number of traffic fatalities per month since 1975. And with April being National Car Care Month, car accident attorney Chris Davis is encouraging drivers to prepare for the upcoming summer months by properly caring for and maintaining their vehicles.
Davis notes that as the summer months draw nearer, more and more teenage drivers – who are notorious for being distracted behind the wheel, according to a survey published by AT&T – will be hitting the roadways, potentially increasing the risk of car accidents.
"Teenage drivers have a lot more time on their hands as the summer approaches, and unfortunately that has a negative impact on the overall safety of American roadways," Davis says. "Parents can be proactive about their teen drivers' safety by making sure their vehicles are properly maintained and potential distractions are limited."
National Car Care Month is the perfect time to address vehicle maintenance issues that could potentially lead to costly repairs and dangerous car accidents down the road, and the Davis Law Group has outlined the following consumer-minded tips for finding a mechanic to properly maintain your vehicle:
-Research and select a repair shop that has qualified mechanics and honest, reputable owners ahead of time. This will help you avoid a stressful situation if your vehicle needs to be repaired in a pinch.
-Take the vehicle to your pre-determined repair shop once a year to do a routine check up and make sure everything is in working order.
-Utilize resources such as information from the Better Business Bureau and other consumer review organizations to get a sense of previous customers' experiences.
-Make sure the repair shop uses brand-name parts or Original Equipment Manufacturer (OEM) parts to repair your vehicle, and request records of each individual repair in writing.
In addition to representing countless of personal injury plaintiffs in Washington throughout his legal career, Davis has also authored several informational guides to better educate accident victims about their legal rights. To date, the Washington Accident Books have helped tens of thousands of Washingtonians better understand the personal injury legal process and whether or not they may need to hire an attorney for their case.
Anyone interested in ordering one of Mr. Davis's complimentary legal guides should contact the Davis Law Group at 206-727-4000 or visit http://www.WashingtonAccidentBooks.com to order a copy online. The books are free to residents of Washington state, but the advice could make all the difference in the success of your case.
About Chris Davis
Christopher M. Davis, founder of the Davis Law Group, has been a licensed attorney in the state of Washington since 1993. He has tried dozens of personal injury cases to verdict and has successfully handled and resolved hundreds of accident claims. He has been a Washington 'Super Lawyer' for seven years in a row for his expertise and success in litigating personal injury claims. You can learn more about the firm by visiting: http://www.DavisLawGroupSeattle.com.