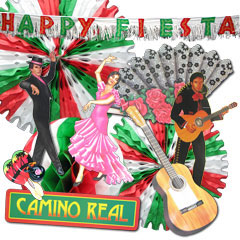 Chicago, IL (PRWEB) April 25, 2013
To some Americans, May 5th is just like any other day, but to others, it is a day of celebration. Cinco de Mayo is approaching, and since the holiday is widely observed in the U.S., Windy City Novelties provides Cinco de Mayo party decorations and accessories. The Chicagoland online party supplies retailer has provided some facts about the holiday and offered some party planning tips for those celebrating.
Cinco de Mayo, meaning "fifth of May" in Spanish, is a day of celebration for Mexican-Americans. Many Americans believe that Cinco de Mayo is Mexico's Independence Day, when the holiday actually falls later in the year on September 16th. Cinco de Mayo is the anniversary of a victory for Mexico in an 1862 battle with the French called Battle of Puebla.
Similar to St. Patrick's Day for the Irish-Americans, Cinco de Mayo is a day of pride and celebration for Mexican-Americans. They focus on their heritage and participate in Mexican traditions in honor of the special commemorative day. As with St. Patrick's Day, the holiday is given more attention in the U.S. than in the country of its origin. Therefore, many Americans that do not have a Mexican background join in on the fun and partake in Mexican traditions, such as feasting on Mexican cuisine and listening to mariachi music.
Online party supplies retailer, Windy City Novelties provides supplies for individuals to participate in the festive Mexican traditions. The retailer carries an assortment of sombreros for both children and adults. Customers can also choose to sport a red chili pepper hat to stand out from the crowd, rather than the traditional sombrero. Along with sombreros, individuals can dress up in Mexican attire, such as ponchos and carry maracas.
The holiday tends to bring individuals out to the locals bars. Because of this, bars tend to have special deals on Mexican-inspired refreshments, such as margaritas, tequila, and Mexican beers. Bars and restaurants can decorate their space with fiesta decorations. Festive banners and wall cutouts add a little Mexican flare to the restaurant. To make decorating easier, Windy City Novelties provides fiesta party decoration kits that include everything needed for hosting a fiesta.
Some individuals also host their own parties for the holiday. Because Mexican cuisine is typically the meal of choice on this holiday, party hosts can serve food on fiesta paper goods and serve margaritas in fun LED glow barware. Drinks are kept cool in inflatable sombrero-shaped coolers. Piñatas are a great source of entertainment for children attending Cinco de Mayo celebrations.
In order for consumers to browse for Cinco de Mayo party supplies, they must visit Windy City Novelties' website and locate "Holiday Parties" on the right side of the page and proceed to the "Cinco de Mayo" category. Windy City Novelties is also offering a 10% off sale for customers on all fiesta and Cinco de Mayo themed party supplies and decorations through the holiday.*
*Some restrictions apply. See website for details
ABOUT WINDY CITY NOVELTIES
Windy City Novelties, a party supply company founded in 1983, is known for their great selection and competitively priced items. They have an A+ rating from the Better Business Bureau and are also a NexTag 5 star Seller. From their website, windycitynovelties.com, they offer fast and friendly shipping along with great customer service. From glow sticks in every color of the rainbow, to party decorations in a variety of themes, and even a vast selection of Halloween costumes at the best prices, Windy City Novelties has over 15,000 products and adds more each week. Windy City Novelties also provides party and gift ideas and advice. For help or more suggestions, email our experts.