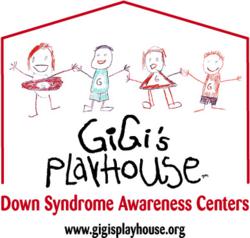 Guitars from The Black Keys going on auction
Nashville, Tenn (PRWEB) April 25, 2013
GiGi's Playhouse, a non-profit Down syndrome awareness and educational center, will hold their inaugural gala and auction on Friday, May 3 from 7-11 p.m. at the Hutton Hotel in Nashville. The fundraising event will support opening a center in the Nashville community and feature both 'live' and 'silent' auctions to raise money.
The evening will feature live musical entertainment, dancing, and both silent and live auctions. Refreshments will be served, including hors d'oeuvres, desserts, wine and beer.
Some of the items on the auction block for this year include signed guitars from Grammy-Award winning artists The Black Keys and country music superstar Eric Church! We also have an array of silent auction items including naming a character in New York Times Bestselling author, Rachel Hawkins' next book series, two tickets and backstage passes to see Rascal Flatts in concert, tickets to the Nashville symphony, and much more!
Gigi's invites the community to attend this event. Tickets for this event are $100 per person, or $150 at the door (if available). Additionally, sponsorship opportunities are still available!
All funds raised from this event will directly support opening a center in the Nashville community. For additional information about the gala, to purchase tickets, or to learn more about how to sponsor this event, please visit http://www.gigisplayhouse.org/nashville or contact GiGi's Playhouse Nashville by e-mail at nashville(at)gigisplayhouse(dot)org.
About GiGi's Playhouse
GiGi's Playhouses are Down syndrome awareness and educational centers that provide resources, specialized teaching, and support to individuals with Down syndrome, their families and the community. All of their programs are free to families and are therapeutic in nature. Each of them are designed to work on specific skill development in several areas including speech and language, social development, and fine and gross motor skills. Gigi's literacy program alone teaches thousands of kids with Down syndrome to read around the nation!
In just 9 years, 12 Playhouses have opened and there are more, including Nashville, in the works! GiGi's is committed to the important mission of spreading positive and accurate information about Down syndrome through education. By helping individuals with Down syndrome reach their highest potential, GiGi's can change outdated perceptions that people may have. The end result is a world that is empowered with knowledge, compassion, and inspiration – what a better place for all of us! For more information, visit http://www.gigisplayhouse.org