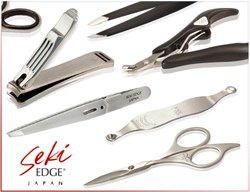 Toronto, Canada (PRWEB) April 30, 2013
Despite having been founded to service customers in need of the tools and supplies used in wet shaving, Fendrihan is interested in expanding past that initial mission. To this end, Fendrihan is introducing products from the Japanese brand, Seki Edge, to its online retail operation, with the intention of aiming at men interested in high-end grooming tools. At present, these grooming implements range from clippers to scissors and tweezers. However, Fendrihan's plan means that it is going to introduce more grooming tools should these products prove successful, both from Seki Edge and other brands in the business.
Seki is one among a small number of Japanese cities that can claim a proud heritage manufacturing superb cutting blades for samurai use. In more modern times, that heritage has produced a host of companies manufacturing high-grade steel implements, including Greenbell. Said manufacturer's Seki Edge products are varied but also united in their common excellence and the continuous improvement that goes into their manufacture. Examples include nail clippers built on innovative designs for enhanced cutting strength, tweezers that have been adapted to a range of possible uses, scissors that are tailor-made for their intended roles, and other specialized tools such as blackhead removers. Greenbell manufactures these pieces using modern technologies but completes them using personal attention from skilled and experienced craftsmen. Furthermore, Fendrihan has chosen the Seki Edge products in its selection to ensure that each one is suited to the needs and tastes of a discerning male clientele.
From a broader perspective, the Seki Edge line reflects Fendrihan's commitment to choosing excellent products for its customers, but venture into the still untapped segment of grooming tools. Although their presence benefits Fendrihan, the Canadian retailer's customers also benefit because of the increased convenience of an one-stop destination for men's grooming needs. As a result, Fendrihan customers should expect more grooming tools from both Seki Edge and other brands to appear in the future, alongside other products aimed at more untapped segments.
About Fendrihan:
Fendrihan is the premier Canadian online destination for shaving and grooming supplies for men. With a comprehensive product range that includes traditional grooming staples, hard-to-find products from around the globe and some of the most reputed names in gentlemen's personal care, Fendrihan's selection appeals to veteran wet-shavers and men of any age looking to elevate their daily grooming rituals. The Fendrihan catalog also includes fine writing instruments and European leather accessories that offer organization and clever convenience demanded and appreciated by their customers.