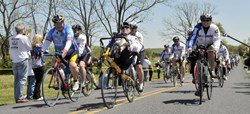 Face of America includes 500 disabled and able-bodied participants from 39 states and several Canadian provinces.
Arlington, Virginia (PRWEB) April 25, 2013
More than 500 disabled and able-bodied participants from across the United States and Canada are gathering this week in Arlington, Virginia for the 11th Face of America bicycle ride from World T.E.A.M. Sports.
Traveling 110 miles in two days from the Pentagon in Arlington to the historic battlefields of Gettysburg, Pennsylvania, the Face of America ride honors and recognizes the sacrifices and commitment of military veterans.
Participants come from 39 states, Puerto Rico, the District of Columbia and several Canadian provinces. These athletes include disabled veterans, first-responders, active duty military, retired military, civilians and youth. For some participants, this will be their third or fourth ride; for others, their first.
Many of the disabled participants served in wars and conflicts from Vietnam to Bosnia to Iraq and Afghanistan. The two day ride provides a unique opportunity for these military veterans.
"Being able to meet other veterans and share stories along the way is also a great way for me to deal with PTSD and my injuries," retired Sgt. Glenn Goulet of Martinsburg, West Virginia said. "I can no longer run or compete in other sports, but I can still ride my bicycle. There is no race on these events and there are plenty of people who care enough to teach you a few technics to make your ride more enjoyable."
Riding this year with the 500 participants are seven veterans from the Canadian Armed Forces' Soldier On program. Iraq veteran and star of the 2012 theatrical film "Battleship," Army Colonel Gregory Gadson will also ride, and provide the Friday evening banquet keynote speech. The Children's Chorus of Maryland kicks-off the evening's festivities with a concert.
On Saturday, April 27, Rear Admiral Nora W. Tyson, a Vice Director of the Joint Staff, will provide words of encouragement and inspiration to the nearly 500 Face of America riders as they begin their ride at the Pentagon.
Throughout the journey, local citizens will come out to encourage and support the riders, while local firehouses, schools, parks and community centers will open their doors and serve as rest stops.
Originally run as a cross-country ride in 2000, the event also served as the official 9/11 commemorative ride in 2002 and 2003, from Ground Zero in New York to the Pentagon in Arlington.
World T.E.A.M. Sports is a 501(c)(3) not-for-profit organization chartered in North Carolina and headquartered in Holbrook, New York. Celebrating 20 years in 2013, World T.E.A.M. Sports organizes athletic events for disabled and able bodied citizens – mountain climbing, white water rafting, bicycling, and more. In all events, we include both disabled and able-bodied participants with all participants working as a team to overcome challenges. Our events encourage disabled participants to build self-confidence and physical fitness while providing a role model for other disabled citizens. World T.E.A.M. Sports events also encourage the disabled to take up physical activities and become a moving inspiration to other participants, as well as spectators who see that the disabled can meet challenges beyond anyone's imagination. We change lives through sports.