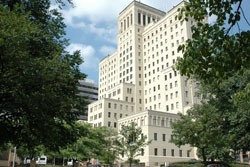 This designation by the Joint Commission reflects our commitment to excellence in medical, surgical, and endovascular care of complex stroke patients with a dedication to quality, improved outcomes and clinical research.
Pittsburgh, PA (PRWEB) April 26, 2013
Allegheny General Hospital (AGH) has become one of the first medical centers in the country and the first in western Pennsylvania to be designated as a Comprehensive Stroke Center by the Joint Commission. This new and elite designation was established to recognize the nation's preeminent and most capable referral centers for the treatment of complex stroke injuries and cerebrovascular disease.
The Joint Commission and the American Heart Association / American Stroke Association established a partnership in 2003 to promote excellent stroke care in hospitals across the United States.
Prior to receiving the highest level of stroke certification, AGH was among more than 1,000 Joint Commission certified Primary Stroke Centers that have an established formal program to treat stroke patients effectively and consistently with the goal of improving care and outcomes.
Now, with the guidance of the Brain Attack Coalition, The Joint Commission has developed an Advanced Certification for Comprehensive Stroke Centers – hospitals with specific capabilities to receive and treat the most complicated stroke cases.
"This designation by the Joint Commission reflects our commitment to excellence in medical, surgical, and endovascular care of complex stroke patients with a dedication to quality, improved outcomes and clinical research," said Ashis Tayal, MD, Director of the AGH stroke center.
The new level of certification recognizes the significant increased resources, staff and training that are necessary for the treatment of complex stroke cases and will assist in the development of integrated delivery networks with Primary Stroke Centers and Acute Stroke Ready hospitals so the most complicated cases can be treated at the centers best equipped to provide specialized care that can lead to better outcomes.
Comprehensive Stroke Centers continue to meet the performance measure requirements for Primary Stroke Centers and will fulfill additional performance and quality Comprehensive Stroke standards, which are in development and will be finalized this year.
"We are extremely proud to have been recognized by the Joint Commission as a center of distinction in stroke care," said James Valeriano, MD, Chairman of the AGH Department of Neurology. "This honor speaks to our ongoing commitment to making AGH one of the top hospitals in the country for treatment of stroke."
AGH has a long history of progressive stroke care. Under the direction of leading interventional neuro-radiologists such as Andrew Ku and neurosurgeon Khaled Aziz, director of the hospital's Center for Complex Intracranial Disease, AGH employs advanced technologies and procedures to remove blood clots and repair blood vessel injuries in the brain. The AGH team was also among the first in the country to perform intra-arterial t-PA, a delicate procedure in which the blood thinning agent t-PA is administered directly to the site of a blood clot to rapidly dissolve it.
Allegheny General has been designated as a Primary Stroke Center by the Joint Commission since 2006 and opened the region's first dedicated inpatient stroke unit in 2007. Named for stroke neurologist Jon Brillman, MD, the inpatient unit centralizes and coordinates the care of stroke patients by the hospital's multidisciplinary stroke team. Though still the only facility of its kind in the region, such inpatient programs have been associated with better patient outcomes and are now a Class I Recommendation for comprehensive stroke centers by the American Heart Association and the American Stroke Association.
In 2011, West Penn Allegheny Health System (WPAHS) established a telestroke program using advanced videoconferencing technology to deliver stroke services to patients in Pittsburgh's eastern suburbs and the Alle-Kiski Valley.
Stroke-trained neurologists from Allegheny General's stroke center are available around the clock for telestroke consultations at Forbes Regional, Allegheny Valley and West Penn hospitals through a secure video monitoring system allowing for rapid, real-time assessment of patients.
AGH's program consistently is recognized for its commitment and success in delivering excellent evidence-based care for stroke patients.
The hospital received the 2013 American Heart Association/American Stroke Association's Get With The Guidelines® Stroke Gold Plus Performance Achievement Award—its fifth consecutive Stroke Gold honor from the American Heart Association/American Stroke Association, and the third time AGH received the Stroke Gold Plus Performance Achievement Award. In addition, Allegheny General also has been recognized on the association's new Target: Stroke Honor Roll, for improving stroke care.
In 2009, AGH ranked among the top 10 percent of U.S. medical centers for the treatment of stroke, according to a comprehensive study released by HealthGrades, a leading independent healthcare ratings organization. As a result, Allegheny General received the 2010 HealthGrades Stroke Care Excellence Award™ and a 5-Star stroke treatment rating for the third consecutive year. The hospital also was named a Stroke Center of Excellence in a national survey conducted by Chicago-based healthcare think tank, NeuStrategy.
"It's extremely gratifying to be commended again and again by organizations known nationally for setting and upholding the highest quality standards," said Jack Wilberger, MD, Chairman, Department of Neurosurgery, West Penn Allegheny Health System. "This is a reflection of the commitment of Allegheny General Hospital's neurologists, neurosurgeons, interventional radiologists and the entire dedicated stroke care team."
A stroke occurs when blood flow to the brain is restricted and requires urgent early response to decrease the loss of brain tissue. According to the American Heart Association/American Stroke Association, stroke is the fourth leading cause of death in the United States and a leading cause of serious, long-term disability. On average, someone suffers a stroke every 45 seconds; someone dies of a stroke every three minutes; and 795,000 people suffer a new or recurrent stroke each year.
More than 1,300 stroke and transient ischemic attack patients are admitted to AGH annually.
###
About the Joint Commission
An independent, not-for-profit organization, The Joint Commission accredits and certifies more than 19,000 health care organizations and programs in the United States. Joint Commission accreditation and certification is recognized nationwide as a symbol of quality that reflects an organization's commitment to meeting certain performance standards. For more information, visit jointcommission.org.
About the Brain Attack Coalition
Representing medical, scientific, advocacy, and government professionals from across the stroke continuum, the Brain Attack Coalition is dedicated to setting direction, advancing knowledge, and communicating best practices to improve our ability to prevent and combat stroke. For more information, visit stroke-site.org.