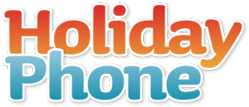 "It's a great success for us to now be able to step into the French market with our full service"
- Joacim Boivie, CEO HolidayPhone.
STOCKHOLM (PRWEB) April 25, 2013
HolidayPhone is now live in France with its full service, enabling French travelers to use low cost voice, text and roaming free mobile Internet when traveling abroad. The SIM card solution can save travelers hundreds of euros per trip in mobile costs.
HolidayPhone aims to solve one simple problem – to ensure low mobile costs for travelers visiting another country. Through cooperation with local operators HolidayPhone offers flat rate mobile Internet along with the lowest rates for voice and text, along with the best coverage. The traveler simply switches to a local SIM card, and HolidayPhone helps with all registration and activation. The user's original cell phone number is also forwarded, enabling the traveler to be reached as normal when abroad and to use mobile services without restrictions, without international roaming fees.
"It's a great success for us to now be able to step into the French market with our full service" says Joacim Boivie, CEO for HolidayPhone. "Other markets have shown great interest, so it feels natural to keep on rolling out our services to other parts of the world, and to also let French travelers take part of our services in French. That's one of our key objectives, to always let the customer get support in their own language."
HolidayPhone recently announced a global partnership with Travelport. More news will be announced shortly.
About HolidayPhone
HolidayPhone is a leading solutions provider of roaming free mobile Internet, voice and text services for international travelers. The company operates under the HolidayPhone brand in the Nordic, UK, US, German, and French market. HolidayPhone has 8 e-commerce points of sale in 6 languages and covers 27 popular holiday destination countries globally. The company also operates the PrepaidSimCard.org brand globally. Headquartered in Stockholm, Sweden, HolidayPhone is a privately owned company.