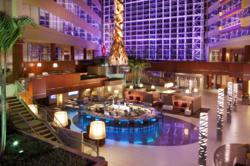 The direction we took for the Hyatt Regency Greenville renovation and anchoring the NOMA Square design, was motivated by our desire to provide a unique setting that showcases our signature modern hospitality while incorporating southern charm - DJ Rama
Greenville, SC (PRWEB) April 27, 2013
JHM Hotels announces the completion of its multi-million dollar renovation of Hyatt Regency Greenville today. The renovation project which commenced December 2011, included the renovation and redesign of the entire property, including all of the hotel's 328 guestrooms and suites; the addition of meeting and event space; the launch of a new soil-to-city restaurant, Roost; and refreshed public areas, lobby and guestroom corridors.
"The direction we took for the Hyatt Regency Greenville renovation and anchoring the NOMA Square design was motivated by our desire to provide a unique setting that showcases our signature modern hospitality while incorporating a bit of southern charm," said D.J. Rama, President of JHM Hotels. "With the success of Greenville's award-winning downtown, revitalized thirty-five years ago with the original construction of this property, we are pleased to have the opportunity to re-establish the cornerstone of Greenville's North Main Street."
A focal point of the renovation is the hotel's reinvented atrium lobby, now fitted with new wood and stainless-steel trimmed architectural coverings, accented by 14-foot high, light towers. At the lobby's center is a signature, one-of-a-kind 40-foot artisan chandelier suspended over the hotel's circular Orb Lounge.
New to Hyatt Regency Greenville is Roost, its signature restaurant. Serving breakfast, lunch and dinner daily, Executive Chef Trevor Higgins focuses on a 'soil- to- city' concept that features local, seasonal and organic menu items. Menu items include Chef's signatures: "Yard Bird" & Dumplings with biscuit dumplings and chicken veloute; his famous Shrimp n' Grits made with Adluh Mills grits, bacon and shrimp; or Maine Lobster Flatbread with tomato, basil and truffle oil. The Pergola, Roost's private dining room, is an intimate setting for private parties and can accommodate up to 100 guests.
The property also added additional event and meeting space, now totaling 37,500 square feet. With the renovation, Hyatt Regency Greenville now boasts the largest hotel ballroom in Greenville, and offers its two new Boardroom and Think Tank meeting rooms, perfect for small groups and local offsite gatherings. Additionally, the property opened its Studio 220 gallery, a unique and contemporary styled meeting space that is situated on the corner of Main and Beattie Streets, and can accommodate up to 300 attendees.
An event to celebrate the completion of the hotel's renovations took place on Wednesday, April 17, 2013. The hotel welcomed Greenville's Mayor Knox White, JHM and Hyatt Hotels Corporate executives, among local dignitaries and neighbors of the community.
About Hyatt Regency Greenville
Hyatt Regency Greenville, a 328-room hotel, is located in Greenville, S.C. in the new shopping, dining and entertainment hub of NOMA Square. It features spacious guestrooms with newly redesigned restrooms, the vibrant ORB Lounge and Roost Restaurant, offering soil-to-city cuisine. For reservations, please call 864-235-1234 or visit http://www.Greenville.Hyatt.com. For more information about Roost, visit http://www.roostrestaurant.com.
About JHM:
JHM Hotels, a premier lodging company, based in Greenville SC, has developed, acquired, owned, and operated hotels throughout the United States for 37 years. The company currently owns and operates 41 hotels with over 7300 guestrooms, located in the United States and India, operating under such well-known brands as Hyatt, Marriott, Hilton and Starwood. For more information, visit our web site at http://www.jhmhotels.com.