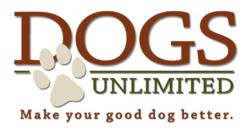 We understand our customers are looking for value and this new standard shipping rate gives them exactly that
Hudson, Colorado (PRWEB) April 27, 2013
While the price of shipping for hunting dog training supplies like electronic dog training collars, hunting dog collars, upland hunting shirts and vests, first aid kits, etc. has increased at every level, Dogs Unlimited introduced a $5.95 Flat Rate on standard ground shipping to shipping destinations within the continental United States for the month of April.
Says Alan O. Davison, owner of Dogs Unlimited, "We're here to offer our customers the best gun dog training supplies and upland hunting equipment at the best prices and that includes the price of our shipping. We understand our customers are looking for value and this new standard shipping rate gives them exactly that."
Dogs Unlimited has worked with their shipping partners to secure the lowest possible shipping rates and are proud to be able to pass that savings along the their customers. Everyone at Dogs Unlimited knows that to truly make the customer experience a great one every aspect has to be great and that includes the price of shipping.
Along with Standard Shipping, Dogs Unlimited also offers Dogs Quick Ship, a shipping option that will typically have an order arrive within 3 - 4 business days. They also offer UPS 2nd Day Air and UPS Overnight. These expedited shipping rates are very competitive as well.
And further good news, "We received such a great response from our current customers, as well as some folks who were buying from us for the first time, that we've decided to continue on with the $5.95 Flat Rate Standard Shipping for the foreseeable future," adds Davison. "Everyone at Dogs Unlimited is always striving to bring our customers the most new and innovative gun dog training supplies, exceptional shopping experience both on our website and over the phone and now we are offering them the best shipping rates."
Dogs Unlimited has been in the gun dog training and upland hunting supply business since 1971 and is located in Hudson, Colorado. They offer a wide selection of products like dog training collars and GPS collars from Garmin, SportDog Brand and Dogtra, upland hunting vests and chaps from Filson and Boyt Harness Company, dog food and water bowls and pails from Kennel Gear, to your basic dog collars and other sporting dog equipment.
Alan O Davison has owned Dogs Unlimited since 2005.