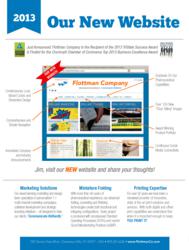 "Our website is the first opportunity to impress and to demonstrate our Brilliant Communications strategies," stated Tom Flottman, CEO - Flottman Company
Cincinnati, Ohio - Northern Kentucky (PRWEB) April 27, 2013
Flottman Company has unveiled their new corporate website. The completely redesigned site, http://www.FlottmanCo.com, provides 24/7 online access to a vast array of B2B and B2C strategic marketing, folding and print communication services. The website now offers visitors a more contemporary look with vibrant colors, simple navigation and an overall streamline design. The site contains more than 100 "Story-Telling" images that serve as portals to access essential information. The user-friendly interface makes it simple for visitors to see what Flottman Company can do and serves to empower customers to consider new concepts for success.
The new website is designed to be comprehensive and informative. There is a strong emphasis on the company's pharmaceutical capabilities with over 40-years of folding experience. The site also details Flottman's strategic and multi-channel marketing abilities and highlights over 90-years of printing expertise. The Award Winning Product Portfolio presents pictures, descriptions and results to demonstrate the Flottman Company's partner successes. Social media will play a vital role in maintaining website content with Flottman's Facebook page being streamed live. For the first time the Flottman website will also provide immediate industry and company news directly on the home page.
"Our website is the first opportunity we have to impress a client or potential client and we wanted to make it easy to access the right information at the right time and present it in a visually appealing manner. We wanted to practice what we preach; Brilliant Communications," stated Tom Flottman, CEO - Flottman Company.
The Flottman Company is a family owned, full-service, communications provider renowned for delivering high quality, result driven marketing solutions. Specializing in target marketing, design, printing, miniature folding and multi-channel media strategies, the Flottman Company empowers companies to Communicate Brilliantly.
###
About the Flottman Company: http://www.FlottmanCo.com
The Flottman Company headquartered in Northern Kentucky; is a full-service digital and graphics communications firm founded in 1921. The company provides a wide array of strategic marketing, design and printing services to enable clients to "Communicate Brilliantly." Flottman Company specializes in pharmaceutical printing and manufacturing of miniature folded inserts. The Green Business Council awarded Flottman Company the 2012 Green Business Award. Flottman received the 2012 and 2013 TriState Business Success Award. The Printing Industries of Ohio and Northern Kentucky named the Flottman Company Printer of the Year. The University of Cincinnati honored the Flottman's with the Tri-State Family Business of the Decade Award. The Flottman Company is privately held, family owned and currently run by the third generation of Flottmans: Tom Flottman, Sue Flottman Steller and Peter Flottman. Like us on Facebook, follow us on Twitter and learn more about Flottman Company at our new website: http://www.FlottmanCo.com.
If you would like more information about the Flottman Company please contact Ed McMasters (513) 470-9461 or e-mail Ed at emcmasters(at)FlottmanCo(dot)com.