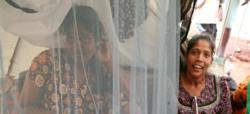 Sarasota, FL (PRWEB) April 25, 2013
As World Malaria Day 2013 highlights the latest research and investments in malaria treatment and prevention, international disaster relief organization, ShelterBox, highlights its own endeavors in providing equipment, like mosquito nets, that offer protection to families made homeless by disaster.
ShelterBox provides humanitarian aid—emergency tented shelter and other supplies, such as stoves, blankets and water filtration systems, among other tools to help families rebuild their lives after losing their homes and possessions following a disaster such as earthquake, volcano, flood, hurricane, cyclone, tsunami or conflict.
When ShelterBox responds to disasters where malaria and other mosquito-borne diseases are prevalent, the boxes delivered are equipped with mosquito nets, providing an additional layer of protection to those who would otherwise be forced to sleep exposed to the elements.
The latest science reveals and increasing trend in resistance to what were once the most effective frontline treatments to mosquito-borne disease. Deadly species of malaria parasites have become more immune to what used to be the most effective anti-malarial drug, artemisinin.
"After extensive research, we chose the PermaNet 2.0, due to its long-lasting effects on malaria mosquitos and other vector-borne diseases," said ShelterBox Operations Manager, Alf Evans. "There is no chance a mosquito can get through the net, no matter how hard it tried."
This ready-to-use bed net is treated with the mosquito repellent, deltamethrin. The chemical is slowly released once the net is opened, requiring no retreatment or dipping thereafter.
In light of recent evidence regarding malaria prevention, investments to defeat the disease have become a popular choice among many humanitarian organizations. As scientists continue to research new drugs that combat the disease, the ShelterBox Operations Department continues to research the different types of mosquito nets with durability and quality on a par with the other equipment provided to disaster survivors.
ABOUT SHELTERBOX USA
Since 2000, ShelterBox has provided shelter, warmth and dignity following more than 200 disasters in over 85 countries. ShelterBox instantly responds to earthquake, volcano, flood, hurricane, cyclone, tsunami or conflict by delivering boxes of aid and other supplies. Each iconic green ShelterBox contains a disaster relief tent for an extended family, stove, blankets and water filtration system, among other tools for survival. ShelterBox's American affiliate, ShelterBox USA, is headquartered in Sarasota, Florida. Individual tax-deductible donations to ShelterBox USA can be made at http://www.shelterboxusa.org or 941-907-6036.
# # #