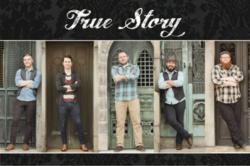 God gives us opportunities to make the most of everyday we are alive…I don't want to miss a single one.
Peachtree City, GA (PRWEB) April 26, 2013
Fresh off their 2nd international tour, this time to Lebanon in the Middle East, this Christian folk rock band spent the beginning of 2013 in the studio and on the road promoting their new release, taking on everything from worship services, conferences, conventions and a benefit concert for cancer research where they raised over $3700 for the Relay for Life event.
They will be leading a mission trip to Guatemala this July to build houses and will stay a week longer, from July 14-19, to tour and share their music with the locals.True Story always goes above and beyond the call of duty.
This is one reason why it is the official band for Actors, Models and Talent for Christ (AMTC). They have performed at AMTC's bi-annual SHINE Convention in Orlando, Florida, for the last 3 years. Performers and scouts alike anticipate their concert during the Talent Finale, Wrap Party and worship service twice a year.
True Story's music genre is often compared to Mumford and Sons and the Lumineers -- contemplative folk rock. Reviewers from iTunes say, "When they [True Story] play, you can see their passion for God spill out and it is totally contagious!" And, "Being Christian/Rock/Alternative music style it is great to sing along with and blare in the car."
"Heaven's Wake" was the title track as well as the number one song from their last album. So far the rhythmic and melodic "More than a Melody" is coming in strong for this new album also entitled More than a Melody.
Lead vocalist and guitarist Clint Nolder says, "Everyone that attends receives the new album for free." The band will be available for pictures and to sign their new album following the concert. All food and drink will be provided by True Story. Nolder adds with his infectious smile, "all are welcome, bring as many folks with you as you like!"
For more information visit http://www.TrueStoryWorship.com. Venue: Peachtree City Christian Church, 500 Kedron Drive, Peachtree City GA 30269 (770) 487-9711