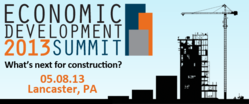 The Economic Development Summit will focus on what's next, and whether the positive momentum will continue...
Harrisburg, PA (PRWEB) April 25, 2013
On May 8, 2013, Mid Atlantic BX (MABX) will host its 2013 Economic Development Summit at the Eden Resort in Lancaster, Pa. The summit will feature a keynote address by Steve Aichele, chief of staff for Governor Tom Corbett, and a panel discussion focusing on the next 12 months for the construction economy.
The panelists will include Gene Barr, president and CEO of the PA Chamber of Business and Industry; Joseph P. Beck Jr., senior vice president and commercial lending manager of Fulton Bank; and John Felmy, chief economist of the American Petroleum Institute.
The panel discussion will focus the construction job market, infrastructure, transportation, finance, technology, Marcellus Shale, and other topics related to construction and design.
"In the past year, there have been a number of positive signs for both the overall economy and the construction industry. The Economic Development Summit will focus on what's next, and whether the positive momentum will continue," Chad C. Harvey, MABX executive director said.
Chief of Staff Steve Aichele will start the event with a keynote address. Governor Corbett named Aichele his chief of staff in May 2012. Prior to that he served as general counsel of Pennsylvania. Before being appointed general counsel, Aichele had been a commercial real estate and business attorney with the law firm of Saul Ewing LLP for more than 30 years. In that capacity, he represented land owners, lenders and governmental entities, zoning, development, financing, construction and leasing.
The Economic Development Summit starts with registration and a continental breakfast at 8:30 a.m. The keynote address is scheduled for 9:00 a.m., with the panel discussion following at 9:30 a.m. Attendees will have the opportunity to participate in a question and answer session at 11:00 a.m. The event concludes with a networking lunch from 11:30 a.m. to 1:30 p.m.
For more event details, visit midatlanticbx.com.
Celebrating its 75th anniversary, Mid Atlantic BX is a trade association dedicated to connecting the construction industry. With its products and service offerings, MABX supports the business development efforts of its members and promotes the growth of the construction industry. MABX provides real-time, online access to thousands of regional new construction projects annually, along with project blueprints, specs, addenda, bid lists and other pertinent bidding documents.
From online, industry-specific services to the Construction Buyers Guide, Construx magazine, industry-specific training seminars and networking events, Mid Atlantic BX connects the construction industry from project concept through completion.
For more information about Mid Atlantic BX, please contact Nate Pigott at (866) 499-2665.