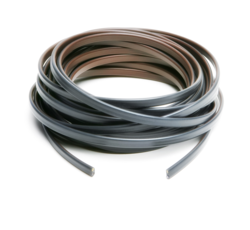 Q-Wire has been adopted by many electricians as the go-to wire for their single family dwelling projects.
Milford, CT (PRWEB) April 25, 2013
Q-Tran announces Q-WIRE—A premium quality, low-voltage, landscape wire also listed for residential, interior applications. The improvements that Q-Tran designed into the Q-Wire include extra jacketing, and oval-shaped design, allowing for a compression fitting that makes a completely water-tight connection and provides extra protection to the wire. The wire is rated for 90C. The stranded copper conductors have been tin coated to prevent any potential for oxidation. The inner jacketing is color-coded, one blue the other yellow, to match up with the terminal blocks on Q-Tran's direct burial series, providing an easy visual aid for the installer. This coding is especially helpful on the Q-Tran LED products, simplifying positive and negative connections.
In addition to being listed as UF-B 90C, the wire is also listed as stranded "Romex". Q-Wire has been adopted by many electricians as the go-to wire for their single family dwelling projects because it has less voltage drop and is more flexible than "Romex". The outer oval jacketing is dual colored, one side is brown and the other is gray, to match the color of tree bark or timber frame construction.
Q-Tran developed Q-Wire because the standard, low-voltage wire available on the market lacks in several areas. The Q-Tran team identified these deficiencies and developed a far superior product. The first issue with standard, low-voltage wire is that it has a score between each conductor, making it impossible to seal. If this wire is brought into an enclosure, it cannot be sealed in the valley between the conductors. This means over time, the small opening created by the notch or valley of standard wire allows water to intrude the enclosure, filling up the burial box with water. Q-Tran addressed this by creating its wire without the gap between the conductors. This creates a watertight seal.
At the same time that Q-Tran was improving low-voltage wire, it was also preparing to launch its Q-Vault-5, an IP68 rated outdoor power supply enclosure. The rating was not possible with standard, low-voltage wire. Upon further inspection of the standard, low-voltage wire, it was noted that there were other issues with the product. The first issue Q-Tran discovered was related to the temperature rating of standard wire. Standard wire used in the landscape lighting industry was originally adopted from the irrigation industry, which has a standard rating of 60C. Standard, low-voltage wire is not rated to be used with lighting equipment and tends to crack in certain environments. Another issue Q-Tran found was that the standard- low-voltage wire is bare copper. Bare copper will oxidize in salty environments and lose its connection. Q-Wire will NOT oxidize. The copper wire is coated in tin and is similar to marine grade wire.
After developing this premium, low-voltage wire, Q-Tran invented Q-Cliks. Q-Tran's Q-CLIK is an IP68 listed, compression fitting capable of sealing 14/2 AWG down to 8/2 AWG and 12 AWG with a ground. These are available in a machine thread ranging from 1/2" to 1-1/4" and in a NPT allowing either a 1/2" or 3/4". Additionally, each compression fitting base has inserts that are capable of handling multiple wires. These exceptional, patented compression fittings guarantee a watertight seal when used with Q-Wire.
About Q-Tran, Inc.
In 1993, Q-Tran, Inc. was founded by John Tremaine, an accomplished lighting designer who was born into a family of lighting entrepreneurs and innovators. He began his career with The Miller Company, a firm acquired in the 1930's by his great grandfather, who founded the National Electric Lamp Association (NELA) before selling it to John's grandfather. In the early 1920's NELA became General Electric's lamp division in Cleveland, Ohio, and was later transformed into a prestigious research institute that is still thriving today.
The Miller Company, a lighting company specializing in fixtures used for commercial, industrial and institutional applications, was sold to John's grandfather, Burton, Jr., who sold it to John's father, Burton, III, and it is where John cut his teeth before starting a lighting design practice in 1980. In 1985 John opened Primo, a high-tech lighting showroom that offered a creative alternative to functional lighting and eventually gave birth to Q-Tran.
Q-Tran was established to fulfill a need in the lighting industry for flexible remote transformers that eliminate noise and heat while enhancing the quality of light output. Operating with the mantra "EnlightenedThinking®," Q-Tran has pioneered innovative transformers and power supply centers to provide safety, reliability, performance and convenience. It was the first company to develop an entire power supply center designed specifically for low voltage lighting. Over the years, Gean Tremaine and Jordan Nodelman would take their place by their father's side, helping to build Q-Tran into a leading designer and manufacturer of high-quality, power supply systems, transformers and components.
For more information, contact:
Q-TRAN, INC.
155 Hill Street
Milford, CT 06460
T. 203.367.8777
F. 203.367.8771
Website: http://www.q-tran.com
Email: info(at)q-tran(dot)com