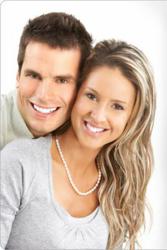 Columbus Teeth Whitening will continue to use the same whitening gel made with Organic, Plant and Mineral based ingredients
Columbus, OH (PRWEB) April 27, 2013
Abella Ultra-White started their business in March of 2012. After whitening hundreds of customer's teeth they announced today that they are in the process of changing their name to Columbus Teeth Whitening. We are the same Company and nothing has changed except for the name and website", said Bruce Deitrick, owner of Columbus Teeth Whitening.
Besides competitive pricing, Columbus Teeth Whitening will continue to use the same whitening gel made with Organic, Plant and Mineral based ingredients and manufactured in the USA at all of its locations.
Columbus Teeth Whitening, besides having their main office in the Polaris area, will also start to become mobile as they hold events such as fundraisers, corporate events, bridal parties, and private parties. They will also sponsor events at salon, spa and fitness locations.
About Columbus Teeth Whitening
Columbus Teeth Whitening provides an alternative to going to a dentist for safe and effective teeth whitening products and services. You can learn more about Columbus Teeth Whitening on their website at http://www.ColumbusTeethWhitening.com.