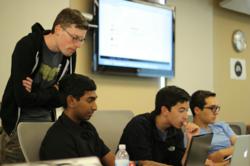 They built an attractive, collaborative code editor in a matter of hours with a surprising number of working features given the time constraints imposed on them
San Francisco, CA (PRWEB) April 26, 2013
A group of students in the Software Management and Software Engineering graduate programs at Carnegie Mellon University Silicon Valley (CMU-SV) won a recent HTML5-themed hackathon hosted by the school by creating a powerful and practical solution for collaborative coding.
The challenge was to develop a HTML5 single-page web app using the APIs of the event's sponsors, which included such influential companies as Yahoo!, Microsoft, Electronic Arts and Meteor.
In just 8 hours, the winning team produced an app that allows programmers to edit and collaborate on code and brainstorm ideas on a virtual whiteboard.
The team, dubbed CoCoDojo (Collaborative Coding Dojo), was comprised of class of 2013 Software Engineering graduate students Sky Hu, Lydian Lee, Clyde Li and Sean Xiao, and 2013 Software Management graduate student Daniel Fortner.
These forward-thinking CMU-SV students saw a need for a better way to collaborate, especially if there are remote participants, that wasn't addressed by other applications.
"We wanted to make it so that even if you were 3,000 miles away from your team, you could participate in developing the software pretty seamlessly," said Fortner. "We have tried programming like this in the past using Google Docs, but there were serious limitations."
CoCoDojo implemented the Meteor web app development platform to sync all the different components of their app, which includes coding tools used in UML diagrams, like trees, and supports different familiar styles such as Sublime and TextEdit. The virtual whiteboard tool they created allows remote users to draw out abstract thoughts as if they were brainstorming together in the same room.
CoCoDojo beat out scores of industry professionals and other Bay Area students with their app and won over an impressive panel of judges for the first place and Audience Favorite prize.
"They built an attractive, collaborative code editor in a matter of hours with a surprising number of working features given the time constraints imposed on them," says Simon Tunbridge, an engineer at Yahoo! who was a guest judge of the competition.
HTML5 was an important theme for this CMU-SV hackathon because of its popularity among developers for creating apps that can run on almost any device. Many of the judges and sponsors were companies that have been working with HTML5 applications and have a vested interest in finding the best talent in the space.
"This HTML5 hackathon fits perfectly into our learn-by-doing and entrepreneurial culture, and the success of these students points to the strength of our teaching methodology and programs," says CMU-SV Director Dr. Martin Griss.
CMU-SV was able to host and organize this hackathon after a generous donation by Yahoo! to sponsor exactly such an event. Hackathons are a way of life in Silicon Valley and provide a unique opportunity for participants to showcase their skills in front of an influential, and recruiting, audience.
"The hackathon was a great experience for everyone on our team," says Fortner. "Lots of sponsors came and talked to us after we won and they all wanted us to apply to their companies. It was a special experience for team CoCoDojo. We were like local programming nerd-celebrities."
This is precisely the kind of success that CMU-SV strives to provide its students. CMU-SV plans to host more hackathons in the future to encourage even more students to build connections with industry leaders in a fun, competitive environment.
For more information about the HTML5 hackathon, Carnegie Mellon University Silicon Valley or entrepreneurship graduate programs, visit sv.cmu.edu or call (650) 335-2808.
About Carnegie Mellon University Silicon Valley:
Carnegie Mellon University Silicon Valley (CMU-SV) is dedicated to educating its students to become leaders in global technology innovation and management and to performing innovative research that connects it to local, national, and global high-tech companies. Long known for its leadership in engineering and computer science research and education, Carnegie Mellon and the College of Engineering have established a natural extension in the Silicon Valley, one that integrates the rich heritage and resources of the Pittsburgh campus with the opportunities available in the highly innovative and entrepreneurial Silicon Valley. CMU-SV offers Software Management, Entrepreneurship, Information Technology, Electrical and Computer Engineering, and Software Engineering degree programs. Each one of these technical graduate programs provides the appropriate mix of technical, business and organizational skills critical to student success. With research that focuses on a suite of new technologies, CMU-SV is committed to creating and implementing solutions for real problems.