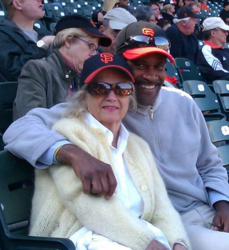 I have never been happier in my life. Gene has given me a new lease on life and my son is totally against my having my last years on earth filled with such love
Santa Clara, CA (PRWEB) April 26, 2013
Santa Clara Conservatorship judge Thomas Cain is being charged with allegedly committing race, gender and age discrimination. According is court papers filed on Monday and Wednesday, Beatrice Pacheco-Starks is claiming that she is being discriminated against by judge Cain due to her age, gender and the race of herself and her African-American husband Mr. Marreon Gene Starks. In re Conservatorship of Beatrice K. Pacheco, 112-PR-171580
The Motion to Disqualify Thomas Cain from hearing an Emergency Petition for Removal of Conservatorship, alleges that Stephen Pacheco, Mrs. Pacheco-Starks son from previous marriage, has successfully enlisted judge Cain, along with court appointed lawyer Michael Desmerais, Baugh and Lynn Searle of San Francisco, to fabricate court records in order to prevent her from being with Mr. Starks so as to ensure that her approximately 6-million dollars is secured only for them.
Court records alleges that judge Cain has used his own race, gender and age biases in deciding to side with her son and his lawyers and she demands that the judge recuse himself from making any further decisions or involvement in her future cases.
Mrs. Pacheco-Starks followed up on April 24, 2013 with an Emergency Petition to remove her son from being her conservator and seeks to terminate court appointed lawyer Desmerais, who she alleges not honestly making her wishes known to the court and otherwise siding with her son in order to unjustly enrich his law practice off of her multi-million dollar estate. The Petition also alleges that her son has not provided her the $500 per week allowance the he was ordered to provide her and once she sought to raise funds to hire her own lawyer by selling her car, he is alleged to have closed her checking account and assaulted her in an attempt to steal her car keys away from her.
Court records also show that on Wednesday, April 24, 2013, she sent an Aide, David Merritt of Sunnyvale California, to present to judge Cain that her telephone was turned off, security guards prevented her leaving her home or receiving visitors and that she needed emergency court intervention and cessation to her son's control over her. Court Reporter transcripts of the hearing shows that judge Cain refused to consider Mrs. Pacheco-Starks American With Disability Request; refused to recuse himself from hearing the new petition; threatened Mr. Merritt with arrest if he persisted in aiding Mrs. Pacheco-Starks and ordered for restraining order to be issued against Mr. Merritt for bringing Mrs. Pacheco-Starks complains to the court.
Hearing is scheduled for May 13, 2013 against Mr. Merritt, to permanently enjoin him from aiding Mrs. Pacheco-Starks.