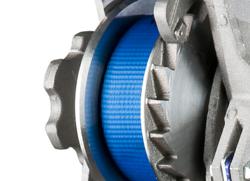 We've developed a reputation of being able to solve complex engineering challenges, and we're pretty excited about that. HyDuct5 will be excellent for applications in which cosmetic quality is important."
Palmer, MA (PRWEB) April 28, 2013
Palmer Foundry, the leader in providing dimensionally stable and vacuum tight aluminum castings for complex applications, has just announced the launch of a new highly ductile aluminum alloy called HyDuct5 and also that the company has been awarded ISO 9001:2008 certification for the manufacture and sale of aluminum castings.
HyDuct5:
This new alloy is perfect for applications where high ductility is required. Compared to the widely known 356-T6 and 356-T51 alloys, HyDuct5 has a higher ultimate tensile strength of 35,000 versus 33,000 and 25,000 respectively; and an elongation value of 9% versus 3% and 2% respectively. At the same time, Hyduct5 is highly machinable and stable.
Other benefits of HyDuct5 include corrosion resistance and excellent anodization properties. This specially developed alloy provides significant design flexibility and high performance without high material costs.
HyDuct5 is added to Palmer Foundry's suite of specially developed alloys which also includes the proprietary Vapore 6 and Stable-Cast series. "An important part of our business model is that we are constantly finding ways to enhance our aluminum casting technologies," said Bob Logan, President of Palmer Foundry. "We've developed a reputation of being able to solve complex engineering challenges, and we're pretty excited about that. We think HyDuct5 will be an excellent alloy for applications in the medical equipment industry, the marine industry and for really any part in which cosmetic quality is important."
ISO 9001:2008 Certification:
Even though Palmer Foundry was already receiving high marks for quality in customer surveys, management decided that because quality is mission critical to the company and to its customers, it made sense to adopt the disciplined enterprise-wide approach to quality management that ISO 9001:2008 certification requires. "Quality is of utmost importance to our customers," said Bob Logan, President of Palmer Foundry. "They depend on the repeatability and reliability of our product to meet their critical specifications and production requirements, day in and day out."
Logan indicated that the process of preparing for and achieving certification took about a year and a half and was quite valuable. "In addition to providing us with a more disciplined way to document and audit our processes and measure outcomes, it has made us more efficient, which is also of value to our customers."
The International Organization of Standardization (http://www.ISO.org) was established in 1947. It employs a system of technical committees, sub-committees and working groups to develop international standards. ISO 9001:2008 is a global quality management standard used to update an organization's Quality Management System, regardless of the company's size. ISO certified organizations must honor a battery of general, management and resource requirements.
Based in Palmer, Massachusetts in the United States, Palmer Foundry produces vacuum-tight and dimensionally stable aluminum castings for countless industrial applications with demanding specifications. In addition to creating the VaPore, Stable-Cast and now HyDuct5 alloys, the company has been noted for its state-of-the-art inspection technology, leading edge cooling and dehumidification system and extensive recycling program. Thousands of Palmer Foundry aluminum castings are in service worldwide for critical high vacuum applications with a spotless record of no field failures due to casting defects or vacuum leaks. The company operates with 70 employees, in a 60,000 square foot complex on a 9 acre campus.