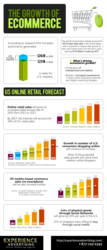 Ecommerce continues to grow, and it's a very exciting time to be involved in the ecommerce industry.
Sunrise, FL (PRWEB) April 26, 2013
Experience Advertising, Inc., a leading online marketing agency, has released an infographic about the dramatic growth of ecommerce. According to Wikipedia.com, "Electronic commerce, commonly known as ecommerce, is a type of industry where buying and selling of product or service is conducted over electronic systems such as the Internet and other computer networks. Electronic commerce draws on technologies such as mobile commerce, electronic funds transfer, supply chain management, Internet marketing, online transaction processing, electronic data interchange (EDI), inventory management systems, and automated data collection systems. Modern electronic commerce typically uses the World Wide Web at least at one point in the transaction's life-cycle, although it may encompass a wider range of technologies such as e-mail, mobile devices social media, and telephones as well."
According to research firm Forrester, ecommerce generated $262B in 2013, $231B in 2012 (13% increase expected) in sales for US retailers. The growth of ecommerce, already accounts for 8% of total retail sales in the United States and is expected to out pace sales growth at brick-and-mortar stores over the next five years, reaching $370 billion in sales by 2017.
What's driving ecommerce growth?
-Proliferation of smartphones and tablets.
-Retailers' increased investments in their online marketing channels and digital marketing budgets.
Online retail sales will grow at a compounded annual rate of 10% from 2012 to 2017. By 2017, the Internet will account for 10% of U.S. retail sales.
2012 - $231/ 2013 - $262/ 2014 - $291/ 2015 - $319/ 2016 - $345/ 2017 - $370
Source: Forrester Research, Sales in billions
Growth in number of U.S. consumers shopping online will continue to increase. Most of the projected sales growth will come from veteran online shoppers.
2009 - 163.1, 85%/ 2010 - 172.3, 87.1%/ 2011 - 178.5, 87.5%/ 2012 - 184.3, 88.1%/ 2013 - 189.6, 88.7%/ 2014 - 195.4, 89.4%/ 2015 - 201.1, 90.1$
Source: eMarketer, March 2011, Number of shoppers in millions and % of internet users
U.S. mobile-based commerce sales via smartphone will be also increase further.
2012 - $8, 3%/ 2013 - $12, 5%/ 2014 - $17, 6%/ 2015 - $22, 7%/ 2016 - $27, 8%/ 2017 - $31, 9%
Source: Forrester Research, January 2013, Retail sales in billions and % of total e-commerce sales
Sales of physical goods through Social Networks will grow by 93% per year in the U.S. 27% of shoppers were willing to buy through social media.
2011 - $1/ 2012 - $3/ 2013 - $5/ 2014 - $9/ 2015 - $14
Source: Booz & Co., Sales in billions
Evan Weber, CEO of Experience Advertising, Inc. stated, "Ecommerce continues to grow and it's a very exciting time to be involved in the ecommerce industry. Our agency assists companies selling through the Internet to increase website traffic and sales by implementing a comprehensive online marketing approach that encompasses: search engines, social media, affiliate marketing, website conversion optimization, email marketing, customer referral programs and more. Companies can always improve and increase what they are doing through their online marketing strategies."
The growth of ecommerce infographic was designed by Blue Polo Interactive.