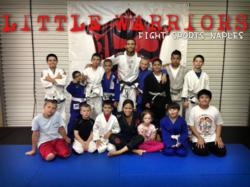 Brazilian Jiu-Jitsu appears to be uniquely well suited for those with ADHD symptoms.
Naples, Florida (PRWEB) April 26, 2013
Fight Sports Naples, a leading provider of MMA and Brazilian Jiu-Jitsu training, has been cited in a new article written by Dr. Jared Dempsey. The article cites the facility's outstanding results in benefiting children afflicted with ADHD through Brazilian Jiu-Jitsu training.
According to the article penned by Dr. Dempsey, "When focusing on martial arts specifically, researchers have found that ongoing training has benefits even more specific than physical activity alone. Those benefits included improved focus, perseverance, increased patience and respect, and a resulting improvement in schoolwork. One study in particular showed obvious improvements in memory, math, and attention in class with regular martial arts lessons. A joint study between the Medical College of Wisconsin and the Italian Federation of Martial Arts studied children who had disruptive behaviors and how they were impacted with regular martial arts classes."
These results have been borne out in the lives of Fight Sports Naples' owner Tom and his daughter, who suffers from sensory processing difficulties. These make it hard for her to pay attention and focus. Tom enrolled his daughter in Brazilian Jiu-Jitsu classes at the age of just four and a half, and startling results were visible almost immediately. While the classes certainly helped her concentrate during her training, they provided benefits even outside the training room. Today, at age six, Tom's daughter is able to concentrate on everyday activities and tasks, and enjoys a level of focus that Tom would never have thought possible before her enrollment.
Tom's daughter is not the only student whose mental health struggles have been improved by enrollment in Fight Sports' Brazilian Jiu-Jitsu classes. One of their students suffers from Asperger's syndrome, which has similarities to autism. After less than a year enrolled in Brazilian Jiu-Jitsu courses, the student now leads an active life in his school and is a valued member of his school's sports team.
Dr. Dempsey concludes that the results seen with the children enrolled in Brazilian Jiu-Jitsu courses at Fight Sports Naples are certainly in keeping with the results of recent scientific investigations. In his article, Dr. Dempsey says, "It is clear from scientific evidence that martial arts training results in numerous psychological benefits. However, the specific form of Brazilian Jiu-Jitsu appears to be uniquely well suited for those with ADHD symptoms. Not only do the goals of Brazilian Jiu-Jitsu (BJJ) include perseverance, concentration, and focus, but also include techniques targeting patience, efficiency, relaxation, and avoiding impulsivity. In my opinion, these factors line up perfectly with symptoms needing to be addressed in ADHD."
To learn more about the Fight Sports Naples or their Brazilian Jiu-Jitsu classes, visit http://www.BJJNaplesMMA.com.
About Fight Sports Naples: Founded by Marcel Goncalves, Fight Sports Naples offers a range of MMA courses for students in Naples and the surrounding area. The school's Brazilian Jiu-Jitsu classes provide substantial benefits for everyday students, but are also excellent resources for children, teens and adults struggling with ADHD and other mental health issues that make it difficult or impossible to concentrate.
Contact:
Name: Fight Sports Naples
Address:
Fight Sports Naples
3526 Plover Ave
Naples, FL 34117
Phone: (239) 353-0413
Fax: (239)-352-7301
Web Address: http://www.NaplesBJJKids.com
Email: Fightsportsnaples239(at)Gmail(dot)com