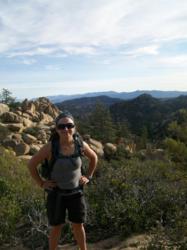 "We are delighted to have Angela with us to share her fun-filled adventures. Her knowledge, creativity and enthusiasm are contagious! " said resort owner Bruhn.
Ely, MN (PRWEB) April 30, 2013
Timber Wolf Lodge is pleased to announce the addition of new programs for guests during the 2013 season. Deep in the heart of Minnesota's Superior National Forest and surrounded by a pristine wilderness of forests and lakes, Timber Wolf Lodge has added fun and adventurous family activities that are sure to create special memories for guests of all ages.
Angela Ziobro, who holds a Graduate Certificate in Environmental Education from the University of MN Duluth, has joined the Timber Wolf Lodge staff as the Guest Services and Family Adventures Coordinator. Angela brings with her a wealth of knowledge about the great outdoors. She has years of practical experience as an outdoor educator in Wisconsin, Oregon, California and Minnesota.
Angela's passion and enthusiasm for sharing knowledge and engaging young and old explorers alike make her a perfect fit for Timber Wolf Lodge.
The resort rests at the edge of the vast wilderness that makes up the Boundary Waters Canoe Area where more than 1200 pristine lakes and streams beckons exploration. Angela will invite visitors to enjoy genuine wilderness experiences.
Angela coordinates beautiful nature hikes to unique geological formations such as "Dry Falls" at Bass Lake, where adventurers will discover a natural "bathtub" formation that has been molded into the rocks by a waterfall over eons of time. Some guests will relax in this area as the falls wash over them. More adventurous guests will find a safe place to jump in the refreshing waters of Bass Lake along the natural stony ridgeline. This hike will surround onlookers with towering pines that are hundreds of years old. Angela will pause at points along the journey to describe and educate.
Other adventures include a hike into the majestic Kawishiwi Falls where thrill seekers can be seen jumping into the waters from ridge lines that are from 5 to 20 feet above the swirling waters. Other guests will enjoy a nighttime astronomy adventure as Angela embarks via pontoon to the center of Bear Island Lake and explores the constellations of the night sky. The locals say "the stars really are brighter up here."
These wonderful adventures are provided to guests, compliments of Timber Wolf Lodge. This marks their 76th year of family adventures, vacations and fun. Visitors return year after year to enjoy the fishing, birding, hunting, canoeing, kayaking, hiking and endless watersports that an authentic Ely, Minnesota vacation has to offer.
Timber Wolf Lodge offers accommodations perfectly suited to families and group gatherings. Choose from a dozen newly renovated cabins of one to five bedrooms that sleep 2 to 14 guests. TimberWolfLodge.com provides photos and descriptions of each cabin to assist you in your selection.
Our Ely Resort is open during spring, summer and fall each year. The staff is always ready to assist in tailoring an experience to suit the interests of vacationers. Angela is eager to share her knowledge and enthusiasm with those interested in learning more about their surroundings in this beautiful setting on the shores of Bear Island Lake, perched just at the edge of one of our country's last great wilderness areas.
"We are delighted to have Angela with us to share her fun-filled adventures. Her knowledge, creativity and enthusiasm are contagious! It is our goal to see that our guests have a fulfilling vacation at Timber Wolf Lodge and Angela will help us add another facet to the total experience to be found here on Bear Island Lake."
To read more about Angela's Adventures, and to view the accommodations and amenities, visit the http://www.timberwolflodge.com website, e-mail guest(at)timberwolflodge(dot)com or call 218-827-3512.