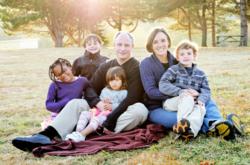 "Adoptive and foster families positively change lives of at-risk youth. They are unsung heroes in our community."
Seattle, Wash. (PRWEB) April 30, 2013
Child adoption and parenting agency Amara announced this year's winner of the Stella Mae Carmichael Award: Tim and Naomi Nichols of Kitsap County, Wash.
The Nichols and their sons Connor (9) and Grayden (7), adopted Zarri (7) after a four-year-long foster-to-adopt process. Zarri had special needs due to abuse and neglect she suffered. The Nichols also adopted Isabella (3) when she was a premature newborn. Additionally, they lead the foster parent support group for Kitsap County.
The award honors foster and foster‐to‐adopt families who open their hearts and homes in exceptionally kind and selfless ways to our community's children in foster care.
The award was presented to the family at Amara's annual luncheon From Hope to Home on April 29, 2013 at the Sheraton Seattle, by Adam Cornell, Deputy Prosecuting Attorney of Snohomish County. Cornell is one of hundreds of children who Ms. Carmichael cared for over her lifetime. He said, "Adoptive and foster families positively change lives of at-risk youth. They are unsung heroes in our community."
Serving determined survivor children
After abuse as a toddler, Zarri spent a month in a coma. When she emerged, she was nearly blind and couldn't walk. That's when the Nichols' fostering role began. She has since made monumental gains. Preemie Isabella was unable to eat and spent her first two months of life in the hospital receiving nourishment through a feeding tube. Today she faces minimal health issues and like Zarri, thrives in the Nichols family.
Adoptive father Tim Nichols explains, "These two girls, at very young ages, became determined survivors who needed the love and consistency of a permanent family. We feel so fortunate to have the opportunity to provide that for them."
Amara Executive Director John Morse said, "We are proud to work with parents like the Nichols. Though we facilitated more than 80 adoptions last year and work with many exemplary families, the Nichols' contributions to these children and to our community were truly stand-out."
About the Stella Mae Carmichael Award
The Stella Mae Carmichael award was established by Amara in 2008 in honor of its namesake. Ms. Stella Mae Carmichael of Bellingham, Wash., served as foster parent to hundreds of children of all ages during her lifetime. Each year the award recognizes a parent or family in Washington who exhibits the attributes Carmichael exemplified in her dedication to children in her care: unconditional love; vision for and encouragement of their futures; a blend of realism and hope; and superb parenting.
About Amara
Founded in 1921, Amara is a Seattle-based nonprofit offering domestic adoption, foster care,
all-options pregnancy counseling services, and facilitates between 70 and 90 adoptions annually. Supported by a combination of individual, corporate, and foundation donors, Amara partners with foster, adoptive, and birth parents to create stable, loving 'forever homes' for children in-need. Amara proudly provides these services without regard to marital status, religious beliefs, income, education, or sexual orientation.
# # #