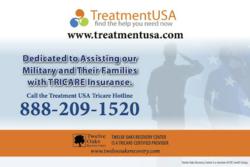 We will always strive to do whatever we can to help where we see a need, especially where our families of Armed Forces and veterans are involved.
(PRWEB) April 29, 2013
TreatmentUSA.com, a referral service for those seeking drug and alcohol addiction treatment, which offers its services for free, has now partnered with CRC to ease the process of getting into inpatient residential rehab programs using Tricare insurance. This partnership ensures anyone using Tricare insurance, whether Army, Navy, Air Force, Marines, Coast Guard or even Reserves, can contact TreatmentUSA.com to get into drug or alcohol rehab, and can do so often within 24 hours.
TreatmentUSA.com works with multiple drug and alcohol treatment centers across the United States that accept TriCare Insurance, for behavioral health and substance abuse treatment. Those facilities are located in Florida, Georgia, Tennessee, Kentucky, Texas, California and Maryland. TreatmentUSA.com's referral service assists military families with the intake process for not only residential inpatient or outpatient addiction treatment programs, but also for drug and alcohol detox programs. TreatmentUSA takes many factors into consideration to place an individual into a treatment program; they don't simply place them in the first available bed. The treatment program's success and prevention of relapse is largely dependent on being placed in the right facility.
Phil Cory of TreatmentUSA.com says of the partnership and expansion to help military families and veterans, "We are very happy to continue to expand our network and partner with CRC to help people who need substance abuse treatment to those using TriCare insurance. We will always strive to do whatever we can to help where we see a need, especially where our families of Armed Forces and veterans are involved."
Treatment USA is a free addiction treatment referral service that helps individuals find the right treatment program for their needs. The service helps families to navigate the process of using health insurance for substance abuse treatment, regardless of where they live. For more information about the services provided by Treatment USA or if you or someone you love needs addiction treatment, contact (888) 209-1520 or visit: http://www.treatmentusa.com/tricare.html