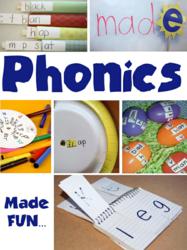 Create word eggs or paper plate word wheels to make learning how to read fun.
Dallas, Texas (PRWEB) April 28, 2013
Nifty starting to read ideas and an out-of-the box (or rather in the box) alphabet sounds game have been released on Kids Activities Blog.
The starting to read ideas are a huge help for any child who is trying to learn how to read. The ideas include making a word family flip chart. The child will love to flip to create new words. Other great ideas include making a magic "E" wand. The wand will transform mad to made.
Playing a Candy land word game, creating a Flip Over E-Wheel, and making a paper plate spinner are only some of the easy to do things at home. Word pulls and family word eggs will help the child to independently practice reading.
The alphabet sound game takes a bit time to set up, but once the game is set up, he or she will love to independently go on a sound treasure hunt. Materials needed are plastic boxes, letter stickers and a willing helper to go on a sound hunt. Place one alphabet sticker on each box, and let the child loose in the house to collect objects that match the letter sound on the box.
For detailed instructions and to get additional fun starting to read phonics activities, check out Kids Activities Blog this week. Come get inspired to let the kids have lots of fun while learning how to read.
About Kids Activities Blog
Kids Activities Blog is a website created by two moms (who collectively have 9 children), Rachel Miller and Holly Homer from June Cleaver Nirvana. It is their daily goal to inspire parents and teachers to play with kids. This interactive website publishes simple things to do with kids twice a day. Kids Activities Blog is a great tool for moms and teachers to find kid-friendly activities that create memories and sneak learning into the fun.