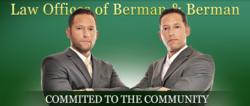 Boca Raton, Florida (PRWEB) April 27, 2013
The Berman Law Firm now offers personal injury consultation services for the Boca Raton, Florida, area. Qualified legal consultants are on hand to address any and all issues a citizen of Boca Raton may have. They provide experienced legal representation as personal injury attorneys in Florida. They fight for their clients' justice, allowing them to focus on recovery from their injuries.
The Berman Law Firm, battles for justice for any potential client affected by personal injury. They are committed to the people of Boca Raton, Florida, and pursue any and all avenues to achieve justice. They are dedicated to pursuing justice on their clients' behalf, and have won numerous personal injury cases in the past, by utilizing approximate values of injuries. The goal of the Law Offices of Berman and Berman is to ensure justice to all those in need. Providing free consultations to the citizens of Boca Raton, Florida, ensures that people, who have been affected by the misfortune of a personal injury, have a reliable place to turn to.
The Berman Law Firm specializes in personal injury law, which includes the various possible claims a client can file or the difference between contributory negligence and comparative negligence, as well as dealing with insurance companies. The attorneys at the firm specialize in major obstacles when collecting money for their clients' damages. Any potential client that may have been harmed by an unfortunate personal injury accident, please give a call to the Berman Law Group at 1-877-529-8995. They are available 24 hours a day and seven days a week to assist potential clients with any questions they may have.
The Berman Law Group has the resources necessary to ensure that clients receive the compensation that is due. They realize what victims have spent on their damages is not equal to the compensation they are entitled to. Extensive knowledge in the field of personal injury, allows them to ascertain how much an injury is worth, based on the numerous cases they have handled. They know the facts that increase or devalue their clients' claims. Attorneys that are dedicated to their clients and their community, they provide legal counsel for Boca Raton, Florida, and are even able to represent clients throughout the entire state of Florida.
To learn more about The Berman Law group, call them locally at (561) 922-9089 or call their Florida legal hotline at 1-877-529-8995. Anyone interested can also visit their website at http://personalinjurylawyerbocaratonflorida.com/ to fill out the consultation form and get a call back to discuss their options for justice.