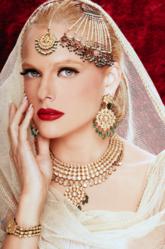 This Pakistan Project is at the heart of who I am as an artist: Music uniting people.
Boston, MA (PRWEB) April 30, 2013
Bringing together music and entertainment leaders from American and Pakistan, Music's Gloabal Ambassador Heather Schmid returns to Pakistan to begin the first phase of a large scale music, TV, internet music project.
"I think it is important to return to Pakistan during the elections because this is traditionally a very divisive time. This project is about unity. We are bringing together different people with diverse backgrounds with one commonality. Music."
The first phase of the project will include writing, producing and collaboration. Ms. Schmid is returning to Pakistan in part to celebrate the depth of talent musicians in Pakistan have. "I am continually amazed by the virtuosity of performers and the diversity of instruments in Pakistan. From pop/rock, qawwal and ghazal singers, to sufi musicians, I enjoy watching the players. To me, the history of instrument comes out in the music." Footage of these collaborations, interviews and travel in Pakistan will be distilled into a TV series in Pakistan.
The TV series, live show and musical collaboration between Pakistani celebrity musicians and Ms. Schmid will culminate in a final song and performance.
"This Pakistan project is at the heart of who I am as an artist: Music uniting people. Musicians from 5 provinces from very different backgrounds coming together during a divisive time in the country to demonstrate their unity."
Pop/Rock Celebrity Heather Schmid performs up to 10,000 seat arenas in China, India, UAE, Pakistan and Europe. Ms. Schmid is the first ever International Artist to perform in many cities of China. This GRAMMY recording artist member has an estimated media reach of over 2 billion from TV, internet, radio, celebrity endorsement, magazine and newspaper coverage.
For further information please go to http://www.HeatherSchmid.com and http://www.TheGoddessInc.com