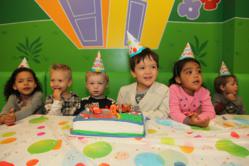 Lets play
Las Vegas, Nevada (PRWEB) April 27, 2013
Kids Planet Indoor Playground, which is conveniently situated in the Las Vegas area and accessible to all surrounding neighborhoods, recently made the announcement that it can now be found on Facebook. It hopes to provide non-intrusive access to playground updates as well as tips on ways to have fun with the kids.
This child-friendly indoor facility has been created to provide a safe, pleasant play area that also includes a venue for children's parties. Individuals who visit the KIDS PLANET Facebook page have access to trending topics for kids as well as news on the playground.
The owners of the playground offered this reason for their decision to become an active part of Facebook, "We want to simplify life for parents, while bringing fun to the kids. Being on Facebook allows us to create easy access to updates or specials related to our facilities. We also offer suggestions on other ways to have fun as a family by mentioning additional events that are happening in town."
Designed for children of all ages, Kids Planet Las Vegas Indoor Playground is a four-season play environment with open hours as well as scheduled events. It provides an exciting venue for families, kids, and friends to enjoy a variety of exciting games and activities using clean, sturdy indoor playground equipment that meets industry safety codes, including everything from child-sized jungle gyms to basketball hoops. Kids Planet also offers a number of reasonably priced party packages.
Interested individuals may join the KIDS PLANET Facebook page at https://www.facebook.com/KidsPlanetLasVegas.
Kids Planet Indoor Playground
4215 S Durango Dr.
Las Vegas, NV 89147
702.456.5454
http://www.kidsplanetlv.com
###