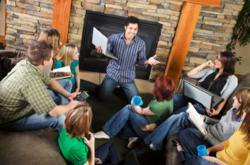 A small group of thoughtful people can aid the learning process, provide accountability, and change your world
Clarkston, MI (PRWEB) April 30, 2013
Today Kastler Consulting Group announces a new Small Group Study Guide for basic personal financial stewardship and budgeting. Many congregation members appeal to pastors and church leaders looking for simple and inexpensive ways to better manage their finances. Turning to small group studies on a variety of life topics, now church leaders can offer a financial stewardship and budgeting solution that is inexpensive, easy to conduct and easy to administer.
Kastler's Small Group solution is based on the company's strong portfolio of budgeting and personal financial planning tools for the entire family, called their "Family Series" program and their "Get a GRASP on Your Budget and Your Cash" workbook. The new Small Group Study Guide complements those products and is currently being offered for FREE.
According to Michael Kastler, founder of Kastler Consulting Group, "Up to now, the market has consisted of only long 7-13 week financial stewardship programs that are expensive for pastors and priests to offer their congregations. Those programs usually leave the attendees 'short' on the mechanics of building a solid budget and financial plan. We've taken our 'how-to' budgeting process and tools and created an effective small group study guide that enables a fun learning process, accountability, and a personalized budget plan in just 4 weeks."
With the economy still slowly recovering and jobs at a premium, many people are looking for solutions on how to scale back financially, yet still give generously to their churches and charities. Teaching a financial stewardship philosophy, adopting a budgeting system, and leveraging the power of small groups can be an effective way to reach out to your congregations and communities.
Kastler's new Small Group Study Guide and his experience in personal finance coaching, cash-flow planning software, and thought leadership do-it-yourself tools, may be the perfect solution for pastors and priests wanting to help their congregations develop a solid financial stewardship plan.
Says Kastler, "With our existing tools and services combined with the Small Group Study Guide, no one that needs to have this type of education should be left untouched. Our goal is to get Americans financially literate and responsible for their financial future."
About Kastler Consulting Group
Kastler Consulting Group, LLC is a Michigan-based company with a mission of "Building Stronger Individuals, Communities and Businesses," through financial literacy and financial wellness tools and services.
Michael T. Kastler is the founder, a Budgeting Coach, developer of the Family Financial Solution Series, and author of a personal finance book, "Get a G.R.A.S.P. on Your Budget and Your Cash." His budgeting money tips blog that helps individuals become financially literate, debt free and meet their financial goals can be found at http://www.budgetingmoneytips.com.