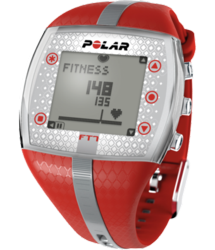 We carry hundreds of heart rate monitors and it outsells every other one for a good reason
Bozeman, MT (PRWEB) April 28, 2013
The Polar FT7 has been voted the best heart rate monitor for under $100 for the second year in a row at the Heart Rate Watch Company.
"This fitness watch has been a perennial favorite and a best seller in the under-$100 heart rate monitor category," says Rusty Squire, President of the Heart Rate Watch Company. He adds, "We carry hundreds of heart rate monitors and it outsells every other one for a good reason".
FEATURES
"The Polar FT7 offers a graphic indicator so you can see the oprecise division between zones and which zone you are in", says Squire. He adds, "It also allows you to change screens hands-free with Heart Touch".
The Polar FT7 is also the least expensive Polar heart rate monitor that allows you to use the free Polar Personal Trainer software with an optional Polar Flowlink Data transfer device.
"There is a reason so many personal trainers and coaches recommend Polar products, it's because they are reliable, accurate and well built", says Squire. He adds, "Polar invented the heart rate monitor 35 years ago and they are more integrated with more gym equipment than any other brand".
The Polar FT7 comes in two men's and two women's models with slimmer wrist bands and uses the Polar H1 transmitter with the flex fabric Polar soft strap. "It definitely has the most comfortable strap for any heart rate monitor under $100", says Squire.