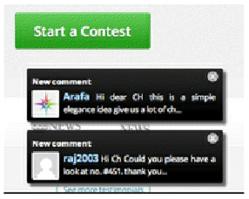 Guaranteeing a contest will result in more entrants and show your determination to receive entries from top designers.
(PRWEB) April 29, 2013
Finding a graphic designer has never been easier.
With new and improved features from Design Contest, users can now guarantee contests and better communicate with an improved commenting system in the quest to find the perfect match for design projects. Design Contest helps connect clients and designers for a variety of projects.
Guaranteed contests are different in that they include a promise to select and pay a winner. Guaranteeing a contest will result in more entrants and show a determination to receive entries from top designers. The new option benefits clients and designers, creating more competition for projects with better and more design options. Plus, the upgrade is free.
Design Contest has also released a new commenting system, making it easier for businesses and designers to communicate. The upgrade uses a "reply" feature for public commenting, making it easier to respond to specific questions or comments. Comments can also be filtered so that users only see relevant conversations, rather than every comment in a thread. The new system also includes pop-up messages for users logged into the system and online user statuses, making it easier to communicate with designers.
Both of these features are now available to all Design Contest users. Get started by logging into a Design Contest account today or visit DesignContest.com to learn more about all the services available.
ABOUT DESIGN CONTEST
Design Contest connects designers and customers who need web design, logos, business cards, t-shirts, brochures and other graphic design services in a community environment. Designers compete for projects and clients get to see a great showcase of work before paying for the design they like best. Design Contest has been connecting clients and designers through this secure system since 2003. Join the community at Design Contest.com or call 1-888-906-1888 for a free consultation.