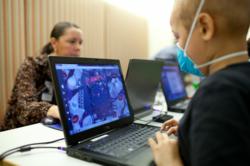 Research on the original Re-Mission showed that it impacted biology and behavior by energizing positive motivation circuits in the human brain and giving players a sense of power and control over cancer. That gave us a new recipe for Re-Mission 2.
Redwood City, CA (PRWEB) April 29, 2013
Re-Mission 2, a collection of free online games launched today by HopeLab, harnesses the power and appeal of casual games to help young people with cancer fight their disease. Combining research on the neuroscience of interactive video game play with the fun and accessibility of casual games, Re-Mission 2 is the follow-up to HopeLab's breakthrough Re-Mission video game, released in 2006.
The new games apply insights from a brain-imaging study published in 2012 by HopeLab and Stanford University researchers showing that Re-Mission, a video game about killing cancer in the body, strongly activates brain circuits involved in positive motivation.(1) This reward-related activation is associated with a shift in attitudes and emotions that helped boost players' adherence to prescribed chemotherapy and antibiotic treatments in a previous study.(2) As a result, each Re-Mission 2 game is designed to boost positive emotion, increase self-efficacy, and shift attitudes toward chemotherapy. The new games also incorporate direct input from more than 120 teens and young adults with cancer across the U.S.
"A lot of times we don't really want to take our meds, we wonder, 'What is this doing? Where is it going? I'm tired of it. It's just going to make me throw up,'" said Jose Guevera, an 18-year-old who was treated for cancer at Children's Hospital Los Angeles and helped design the Re-Mission 2 games. "But when you see on the screen and visualize what's happening inside your body, and what the chemotherapy's doing – you're not looking at a PowerPoint, you're playing a game and you're being chemo and you're killing your bad cells. I think Re-Mission 2 can really help a lot of us."
"Research on the original Re-Mission showed that it impacted biology and behavior primarily by energizing positive motivation circuits in the human brain and giving players a sense of power and control over cancer," said Steve Cole, Ph.D., Vice President of Research and Development at HopeLab and Professor of Medicine at the University of California, Los Angeles. "That gave us a whole new recipe for engineering the games in Re-Mission 2 – by harnessing the power of positive motivation circuits in the human brain. And by involving more than 120 young cancer patients in shaping the game scenarios and play experience, we know these games will be super fun to play."
Each Re-Mission 2 game puts players inside the body to defeat cancer, using weapons like chemotherapy, antibiotics and the body's immune cells. The action parallels real-world medical treatments used to fight cancer. The games are designed specifically for teens and young adults who are at risk of adverse cancer outcomes due to poor treatment adherence.(3) Research on Re-Mission 2 shows that the new games are as effective as the original Re-Mission game in increasing players' self-efficacy, boosting positive emotions and shifting attitudes about chemotherapy.
"Combining high-quality science and compelling game design to help young cancer patients fight their disease was at the core of my vision for the original Re-Mission, and I'm delighted to see that continue with Re-Mission 2," said Pam Omidyar, HopeLab Founder and Board Chair. "HopeLab science has improved our understanding of how technology can be harnessed to catalyze the innate resilience of young people, even in the face of extreme adversity, like cancer. The Re-Mission 2 games have been tested with kids across the country, including my own, and we hope people have as much fun playing them as we have."
Re-Mission 2 games are free to play online at re-mission2.org. The web-browser-based casual game format offers a variety of fun gameplay styles and meets young cancer patients where they already spend time, online and on mobile devices. Three of the games also can be played on iPad, and players can unlock a special bonus pack of downloadable games for Mac or Windows PC.
The innovative research and development work behind Re-Mission 2 was led by HopeLab, a nonprofit funded by Mrs. Omidyar and her husband, Pierre Omidyar, eBay founder and chairman. Additional funding support for Re-Mission 2 was provided by Vivendi, LIVESTRONG Foundation, the Entertainment Software Association Foundation, Cigna, Genentech and the Annenberg Foundation.
1. Cole, S.W., Yoo, D.J., Knutson, B. (2012). Interactivity and Reward-Related Neural Activation During a Serious Videogame. PLoS ONE.
2. Kato, P.M., Cole, S.W., Bradlyn, A.S., Pollock, B.H. (2008). A Video Game Improves Behavioral Outcomes in Adolescents and Young Adults With Cancer: A Randomized Trial. Pediatrics, 122, e305-e317.
3. Butow P, Palmer S, Pai A, et al: Review of adherence-related issues in adolescents and young adults with cancer. J Clin Oncol 28:4800-4809, 2010.
Perspectives on Re-Mission 2
"When I first was introduced to the Re-Mission program, I was just amazed," said Ernest Katz, Ph.D., Director of Behavioral Sciences and Co-Director of the HOPE Program, Children's Center for Cancer and Blood Diseases at Children's Hospital Los Angeles. "Here is a product that kids can engage with in a fun way, and it helps them learn about what they need to do in order to get better."
"Re-Mission 2 is an inspiring example of how digital entertainment can improve lives," said George Bushnell, Vivendi Senior Vice President and Deputy General Counsel. "Vivendi is proud to be a lead sponsor of Re-Mission 2 through its Create Joy Fund."
"The LIVESTRONG Foundation is excited to partner with HopeLab on Re-Mission 2, an engaging, fun and effective video game to help young adults facing cancer cope with their illness," said Doug Ulman, LIVESTRONG Foundation president and CEO.
"Cigna is committed to providing our customers with innovative, evidence-based resources that empower them to manage their health," said Scott Josephs, M.D., Cigna national medical officer. "We have been distributing Re-Mission to young people with cancer since 2007 and we're proud to be the exclusive health plan sponsor of the Re-Mission 2 launch."
"We know that technology can be a powerful force for good in the lives of young people," said Jenny Lai, vice president of the ESA Foundation. "Re-Mission 2 embodies that promise. The ESA Foundation became HopeLab's first Re-Mission distribution funding partner in 2006. We are delighted to extend our partnership to support the launch of Re-Mission 2."
About HopeLab
HopeLab is a non-profit organization founded in 2001 by Board Chair Pam Omidyar. HopeLab harnesses the power and appeal of technology to improve human health and well-being. HopeLab applies a research-based, customer-focused, collaborative approach to create products that positively impact health behavior. HopeLab is part of the Omidyar Group of philanthropies. For more information, please visit hopelab.org.
Media Assets
Re-Mission 2 Fact Sheet
Re-Mission 2 Game Descriptions
Additional assets available upon request, including screenshots, gameplay clips, and b-roll. Contact Kent Streeb at (530) 908-9225.
# # # # #