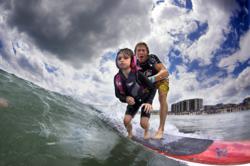 People travel from all over the country to attend our special camps.
Wrightsville Beach, NC (PRWEB) April 30, 2013
Named as one of the World's 20 Best Surf Towns by National Geographic, Wrightsville Beach is a small surf town of 2,000 with a big heart for special needs kids and adults.
Kicking off the town's 2013 schedule of special needs surf camps on May 18 is the Christopher and Dana Reeve Foundation's Life Rolls On for people with spinal cord injuries. Camp registration is free.
This is one of the most inspiring public beach events of the year attracting dozens of participants and hundreds of volunteers including pro surfers Cory Lopez and Garrett McNamara, and Jesse Billauer, founder of Life Rolls On.
Kevin Murphy of Ocean Cure is the local director of the only North Carolina event hosted in six coastal towns from California to Florida, New Jersey and Virginia.
Rachelle Chapman, a Knightdale, North Carolina woman paralyzed from the neck down by an accident at her bachelorette party, will be one of the Wrightsville participants. Chapman's appearance is featured by Roxy.
Life Rolls On is one of many custom curriculum camps directed by Ocean Cure. Others uplift Wounded Warriors, breast cancer and HIV patients, the visually impaired, gang task force outreach and more. Because of the sensitive nature of these special groups, some camps are not posted on the schedule.
IndoJax Surf Charities, a nonprofit led by Jack Viorel, commits resources to surf camps including the hearing impaired, Burmese refugees, Wounded Warriors, and his most popular Wrightsville Beach event - the fifth annual Visually Impaired Surf Camp July 15-19.
"People travel from all over the country to attend our special camps," Viorel says. The Visually Impaired Surf Camp is the most popular.
Beneficiaries of other IndoJax special camps include the Boys and Girls Club, children with juvenile diabetes, children from Belarus, an annual camp for orphan girls in India, in addition to outreach for children and families living with autism.
Families with children with autism will want to register for Surfers Healing August 19 stop in Wrightsville Beach, one of only 14 locations on the 2013 U.S. and Canadian tour. Founded in California by professional surfer Izzy Paskowitz for his son, Isaiah, who was diagnosed with autism, Izzy discovered the positive impact that surfing had on his son, and now shares this unique therapy with other children diagnosed with autism.
In September IndoJax will team up with Coastal Therapeutic Riding Program to offer a unique Surf/Horse Camp now in its second year. Held on the West Coast in Half Moon Bay, California and on the East Coast in Wrightsville Beach, the Surf/Horse Camp is inspired by Rupert Isaacson's quest to find treatment for his son's autism chronicled in the autobiography "The Horse Boy: A Father's Quest to Heal His Son."
Special Diet and Lodging
For special menu and lodging needs contact Blockade Runner Beach Resort, a long-time supporter of charitable surf camps at Wrightsville Beach. Call Jason St. Clair at (910) 256-2251 or visit http://www.blockade-runner.com
Wrightsville Beach Surf Camp Calendar
Ocean Cure
May 18: Life Rolls On (Christopher and Dana Reeves Foundation)
IndoJax Surf Charities
May 28-30: Boys and Girls Club
June 15: Burmese Refugees Surf Camp
June 24-27: Children from Belarus
July 8-11: Juvenile Diabetes
July 15-19: Visually Impaired
Aug 5-8: Clara Eppes Memorial Surf Camp for the Hearing Impaired
Aug. 19: Surfers Healing
Aug. 20-22: Autism Camp
Aug. TBA: Cystic Fibrosis
Sept. TBA: Surf/Horse Camp with Coastal Therapeutic Riding Program and The Horse Boy Foundation
Contact information:
Indo Jax Surf Charities
Jack Viorel (910) 274-3565
http://www.indojaxsurfschool.com
Ocean Cure
Kevin Murphy (910) 431-0594
http://www.oceancureinc.org
Surfers Healing, Wrightsville Beach
John Pike (910) 791-8240
http://www.surfershealing.org
Blockade Runner Beach Resort
Jason St. Clair (910) 256-2251
http://www.blockade-runner.com
Robert B Butler | PR | Raleigh | Wilmington | NCPressRelease.com