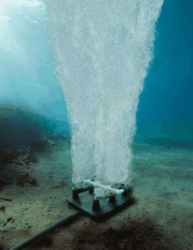 Santa Maria, CA (PRWEB) April 30, 2013
Fountain Mountain announces it will begin selling Robust-Aire diffusers, named by Kasco Marine as the most energy-efficient diffusion systems on the market. Ponds receive life-supporting oxygen from the atmosphere where air and water contact each other, and also from photosynthesis from plant life below the water surface. However, these processes are literally as unpredictable as weather, as sunlight and wind energy (which produces wave energy) vary. No sunlight: no photosynthesis to create oxygen. Stagnant water: no physical energy to help the water and air exchange gases.
There are many diffuser systems on the market, but in keeping with Fountain Mountain's goals of quality and effectiveness combined with the lowest possible use of electrical energy, the company once again chooses a Kasco recommendation. Kasco Marine is a U.S. company whose goals are aquatic health, aesthetics, and always energy-efficiency. Michael Guista, president of Fountain Mountain, Inc. states, "I always go with Kasco first. They show more knowledge and downright honesty than any company I've ever worked with."
Some key advantages of these systems are these: No electricity in the water where swimmers might be, no floating equipment to obscure the environment, no electricity needed at the water's edge, the compressors can inject air up to 50 feet below the surface, and the ability to aerate very large ponds and even lakes. In addition, these diffusers are low maintenance.
Beginning April 1, 2013, Fountain Mountain, Inc. has pledged a percentage of profits from all sales of fountain and pond pumps, floating fountains, and LED lights will be donated o the non-profit Center for Energy Efficiency and Renewable Technologies. Kasco products are major line of Fountain Mountain, in keeping with the company's goal of energy-efficiency.