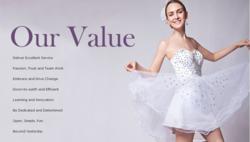 (PRWEB) April 29, 2013
Dresses1000 is a popular supplier of wedding dresses and special-occasion dresses. Today, the company releases its new collection of little black dresses, and launches a promotion for these new dresses with a slogan of "Every Woman Should Own A Little Black Dress."
Dresses1000 is always trying to show that quality doesn't always come with high prices, and it ensures to meet the requirements of each client that browses through their online shop. There are many suggestions on their website for dressing up a little black dress to stand out from the crowd.
According to Sherri Wang, CEO of the company, the zenith of elegance in any woman's wardrobe is the little black dress. The little-black-dress club has opened its doors wide, as vast as the endless horizon, to allow for individual choices and interpretation. In her opinion, every woman should own a little black dress.
"We have a wide selection of black dresses for prom or party, and we are excited to launch this promotion. Dresses1000 has some of the most stunning little black dresses for you to choose from. Please browse through our catalogue and pick the perfect style for you. Now, ladies don't have to pay exorbitant amounts of money to look absolutely gorgeous," says Sherri Wang.
In addition, Dresses1000 is offering a huge selection of homecoming dress under 100, lace wedding dresses, prom dress with sleeves, and more. For those looking for special-occasion dresses, they can own their favorite dresses with some clicks of a mouse now.
About Dresses1000
As a leading online store that offers wedding dresses, Dresses1000's mission is to 'make women more beautiful' by offering stylish and high-quality women dresses to each customer. Good customer service, high quality, fast delivery, and competitive prices, are the reasons to choose Dresses1000.
For more information, please visit: http://www.dresses1000.com