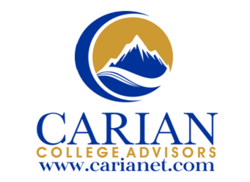 Start thinking about college during the first months of you freshman year in high school, not during the last months of your senior year" - Peter Davos
Dubai, UAE (PRWEB) April 29, 2013
Applying to colleges in the United States is a confusing and overwhelming experience, even for the most well informed American students. The process is a particularly complicated one for international students, many of whom have never visited the US and have myriad misconceptions about the admissions process. Peter Davos, Founder and Managing Director of Carian College Advisors, had a chance to address these misconceptions, as well as answer students' questions, at the recent Gulf Education and Training Exhibition (GETEX) held in Dubai on April 17 - 19 at the Dubai Convention Center.
Davos commented, "Students are receiving poor advice from a variety of sources - other students, their parents, or school counselors - and this is hurting their chances of admission." For example, many Emirati students are told only to complete the Math section of the SAT and skip the Critical Reading and Writing sections of the exam. Doing so is very detrimental to the applicant and does not allow admissions officers to properly assess a candidate. Furthermore, many high school students are unaware that their American applications should be completed during the fall of their senior year. "I have students continually coming to me in May asking to apply to US universities - many of which have hard application deadlines in the previous November through January - and there is very little I can do for them, particularly if they have not taken the TOEFL or the IELTS," says Davos.
Many students also erroneously believe that they will have not face challenges in being admitted by schools their father or uncles have attended. While legacy status does play a role in admissions decisions, it will not make up for academic, testing, or extracurricular shortcomings. Another common refrain among students is that they believe, as full-fee paying international applicants, they will be guaranteed admission to any universities to which they apply. This is untrue. While full-fee applicants are more attractive from an admissions perspective - particularly among less wealthy universities with smaller endowments, wealthy universities are need-blind in their admissions procedures. "The amount of misinformation circulating regarding admissions expectations, policies, and guidelines is not only baffling, it is extremely troubling," says Davos.
Holding these misconceptions prevent applicants from preparing and completing a successful application, which could delay the commencement of their studies by a year or more. Davos advised students at GETEX to research admissions requirements individually and trust information only from credible sources. "If you are interested in studying and living in the US for four years, do your homework. Take the initiative to discover the truth about what matters in the process and, if you need extra help, seek it from someone who is qualified and informed," Davos added. Excellent sources of information include the websites of the College Board, the organization which administers the SAT, as well as the Education sections of the New York Times and Washington Post. "Start thinking about college during the first months of your freshman year in high school," says Davos, "not during the last months of your senior year."