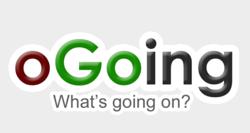 "Have you engaged with your customers on oGoing? I invite owners, entrepreneurs and small business service providers to get their business going on oGoing today!" Sanjay Dalal, founder & CEO, oGoing
Irvine, CA (PRWEB) April 29, 2013
Business Owners, Entrepreneurs and Small Business Service Providers are growing their sales with social media. Key benefits of social media include attracting and engaging with more customers on Facebook, Twitter, LinkedIn, Google+, YouTube, oGoing, blogs and more.
"Social Media provides businesses an unprecedented direct communication with customers! Using social media, a business directly informs their clients about what's going on, promotes new offers and services, and provides customer service; the clients freely express with the company their experiences, ask questions and provide direct feedback in a public setting. This level of intimacy and engagement hasn't been achieved before," Sanjay Dalal, founder & CEO, oGoing.
oGoing is the nation's fastest growing small business social media marketing network. Thousands of Business Owners, Entrepreneurs and Small Business Service Providers are using oGoing to generate warm leads, attract new customers, promote products and services, share deals, and engage with clients directly.
oGoing presents 5 social media tips and best practices for a business to attract more customers using social media marketing:
1. Know the customers
Take time to know your customers through social networks. Stand in their shoes. Learn more about their business. Ask the question: "What are their needs?" Find them, and Search their social media updates. Learn more about the customer's customers. The more knowledgeable one becomes about the customer's business, the more products and services the business can ultimately offer to them.
2. Connect with customers
After determining who the customers are, a business must take the logical next step: Connect or Follow them! Once connected, most social media networks share a live news feed of the following user's updates. Thus, when a business is logged in, they see latest news stories about their customers. Reading what's going on provides greater understanding of the customers' current situation, needs and events.
3. Engage with customers
Reading the customers' updates and gaining further knowledge about them are important first steps. Next step is to begin engaging with the customers. The best way: Reply to their updates and Ask questions. When a business responds to what their customers are saying, and begins a conversation, that's when engagement begins. Social media is all about "live" conversations. Besides replying publicly, a business can also ask direct questions to solicit a response, reply privately or send a direct message for further intimacy.
4. Promote customers
Often times, owners and marketers forget that social media marketing is not so much about promoting their own business; rather, it's more about promoting their customers. This simple fact changes how well engaged the customers are. When the company takes on the onus of promoting their customers, the returns are tangible and immediate. What customer doesn't like a public promotion in the form of a mention, sharing of their updates, or recommendation?
5. Ask for referrals from customers
After establishing a solid relationship with customers and prospects on social media, a business can begin to transform this engagement into leads. Social media cannot be an off and on affair. It has be an always on campaign. Hence, a business must frequently login to social media networks and engage with their clients on a daily basis. When the time's right, ask the customers for new referrals and share with them new offers.
oGoing welcomes new businesses and marketers to join, connect with members, and promote what's going on. oGoing provides a powerful social media marketing network for small business that increases website traffic, improves SEO ranking, generates warm leads and attracts new customers. Join oGoing today.