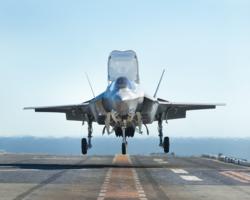 Adacel's system is designed to operate effectively in high noise; high stress conditions…
Orlando, Florida (PRWEB) April 29, 2013
Adacel today announced that Lockheed Martin Corporation has procured an additional 32 licenses for Adacel's Voice in the Cockpit system. The order of the 32 licenses will cover the Low Rate Initial Production (LRIP) Phase 5 of the F-35 Joint Strike Fighter (JSF) program.
Basically speaking Adacel's Voice Activated Cockpit solution allows the pilot to talk to the aircraft and the aircraft to respond back to the pilot enabling the aircraft to automatically and correctly respond to pilot voice commands. This safely eliminates many manual operations by the aircrew, which reduces distractions and cockpit workload freeing the pilot to concentrate on achieving the flight mission.
Adacel's system is designed to operate effectively in high noise; high stress conditions that are characteristic of the demanding environment associated with aircraft operations. In addition to the F-35, Adacel's Voice Activated Cockpit system is offered as an option on Alenia Aermacchi's M-346 Master aircraft and is being actively considered on other aircraft platforms.
For more information visit http://www.adacel.com.
About Adacel
Adacel is a leading developer of operational air traffic management systems, speech recognition applications and advanced ATC simulation and training solutions. The Company's products are widely used throughout North America, Europe, the Middle East, and Asia Pacific regions.