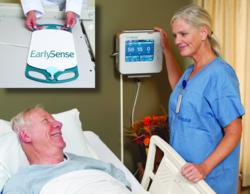 We are committed to elevating healthcare in Tampa Bay by delivering the highest quality of care and enhancing patient safety, which is demonstrated by our early adoption of the EarlySense system.
Tampa, Fl (PRWEB) April 29, 2013
Florida Hospital Tampa is elevating health care in Tampa Bay by adopting EarlySense, a bedside patient monitoring and centralized system. The EarlySense system offers medical professionals the ability to identify early warning signs of patient safety risk and a decline in health. Without ever physically touching the patient, the system measures heart rate, respiration rate, patient movement while in bed, and how often a patient enters and exits the hospital bed, by utilizing a sensor that is placed under the mattress of a bed. The nursing team receives real time alerts on mobile devices or at the control center located in the nurse's station if there are changes or findings that require attention. The EarlySense sensor pad under the mattress continuously monitors heart rate and respiratory rate, without wires and with no discomfort or restrictions on the patient's freedom of movement.
"We are committed to elevating healthcare in Tampa Bay by delivering the highest quality of care and enhancing patient safety, which is demonstrated by our early adoption of the EarlySense system," said John Harding, President and CEO of Florida Hospital Tampa. Last April, Harding announced the hospital's new computerized system electronic medical record (EMR) and computerized provider order entry (CPOE) systems with bar-code scanning. These systems are designed to drastically reduce medical errors and streamline patient care. "On April 22 we celebrated our one year anniversary of integrated EMR and today, we are implementing a proactive patient care system. Being the first hospital in the state of Florida highlights our investment in technological enhancements which elevates our commitment to patient safety."
The EarlySense system is designed to integrate with the hospital's current clinical workflows, requiring no additional overhead. A key element in preventing hospital readmissions is early detection and timely intervention when a patient's vital signs, like heart rate and respiratory rate, show early indication of a major change and decline in health. "We are very pleased to add Florida Hospital Tampa to the growing list of US-based hospitals using EarlySense technology to avoid adverse patient events and improve performance. Recently, the Joint Commission came out with a Sentinel Event Alert, warning hospitals to be vigilant about alarm detection and monitoring. Many problems caregivers experience today with current products typically involve monitoring device leads, also called wires; that are physically attached to patients. With EarlySense technology, we do not place leads on a patient, therefore the same types of problems experienced with traditional monitoring technology can be avoided. We are excited about tracking the results and potential improvements that will be experienced by the implementation of the EarlySense system at Florida Hospital of Tampa" said Tim O'Malley, President, EarlySense Inc.
The EarlySense system offers many advantages for the Florida Hospital Tampa medical teams when it comes to monitoring and detecting patient deterioration, whether it is respiratory depression, or cardiac compromise. One example is the ability to have a trending package within the EarlySense monitor. This feature provides early indication of a potential adverse event. It is well documented that detection of early warning signs, 6-8 hours prior to an adverse event, can make the difference between patient survival, or not. This system empowers staff to monitor patients, as well as reduce patient readmissions, pressure ulcers and falls. Florida Hospital Tampa is deploying EarlySense on one nursing unit in the hospital to collect data and monitor EarlySense results. Based on the findings, the hospital will develop a phased approach to deployment throughout the rest of the hospital. There will be a press event, tours and a live demonstration of the EarlySense system on Thursday May 9, 2013 starting at 10am at Florida Hospital Tampa. To RSVP for this event, please call or email Media Relations Manager, Jennifer McVan at (813) 615-7395.
About Florida Hospital Tampa
Florida Hospital Tampa is a not-for-profit 475-bed tertiary hospital specializing in cardiovascular medicine, neuroscience, orthopaedics, women's services, pediatrics, pulmonology, oncology, endocrinology, bariatrics, wound healing, sleep medicine and general surgery including minimally invasive and robotic-assisted procedures. Also located at Florida Hospital Tampa is the renowned Florida Hospital Pepin Heart Institute, a recognized leader in cardiovascular disease prevention, diagnosis, treatment and leading-edge research. Part of the Adventist Health System, Florida Hospital is a leading health network comprised of 23 hospitals throughout the state. For more information, visit http://www.FHTampa.org.
About EarlySense
EarlySense has brought to market an innovative technology designed to advance proactive patient care and enable clinicians to achieve better patient outcomes, by assisting in preventing adverse events from occurring. The company's flagship product, the EarlySense System is a continuous, contact-free, patient monitoring solution that monitors and documents a patient's vital signs and movement using a sensor that is placed underneath a bed mattress. There are no leads or cuffs to connect to the patient who ha complete freedom of movement and is not burdened by any cumbersome attachments. The system is designed to monitor non-ICU "lower risk" patients on medical surgical floors who are usually monitored by nursing staff approximately once every four hours. The system is currently installed at hospitals and rehabilitation centers in the USA and Europe. It is also commercially available in Canada. Early Sense INC is headquartered in Waltham, MA. For additional information please visit http://www.earlysense.com. Follow us on Twitter. Like us on Facebook. See short overview video.
FHT-1026PR