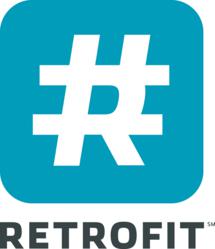 This is an exciting time for behavior change in the workplace. With advances in technology and data-driven programs, health care costs are going down as we implement the latest strategies that behavioral economics has to offer.
-Retrofit CEO Jeff Hyman
Chicago, IL (PRWEB) April 30, 2013
Retrofit, the weight loss program for busy professionals, provides unrivaled strategies for creating healthy work environments through innovative technology and client support. The stakes are increasing rapidly as overweight full-time workers become less productive and healthcare costs rise. Corporate clients that choose reward-based programs in lieu of punitive measures are having great success as they drive sustained results.
"Employers nationwide feel the need to rev up energy and productivity among workers, while at the same time reducing their healthcare costs," said Retrofit CEO Jeff Hyman. "Short bursts of attention to behavior change do not help the employee, employer, or our healthcare system. Only sustained behavior change is meaningful, so small baby steps towards healthy habits are more useful than grand plans for both corporations and their employees."
A 2011 Gallup survey estimated that American obese and overweight full-time workers miss an additional 450 million days of work each year compared with healthy workers, resulting in $153 billion in lost productivity.
"Work has become the perfect place to implement the latest behavior modification strategies," said Retrofit Advisory Board member Brad Saks, PsyD. "In the wake of companies using 'the stick,' or penalties, to change employee behavior, decrease obesity, and lower health care costs, Retrofit is committed to vigorous behavior change through more positive 'nudges'."
More than 90% of Retrofit clients are losing weight and 96.5% of those say they have made at least one positive behavior change since starting the program. The Retrofit corporate client roster includes: Walgreens, Oreck, Dolby Laboratories, Accretive Health, the NFL Players Association, Salesforce.com, VISTA Staffing Solutions and more.
The Retrofit program includes wireless monitoring of a client's weight, activity and sleep, as well as private lessons with a registered dietitian, exercise physiologist and behavior coach via Skype videoconferencing. Clients learn how to change behavior by identifying areas where small changes can be made to incorporate healthy new daily habits. This personalized coaching approach, enabled by wireless tracking, is gaining traction. Forbes.com calls Retrofit the "front-runner in harnessing wireless and remote technology to help busy clients lose weight." TechCrunch named Retrofit as one of the "Hottest Health and Fitness Apps" of 2012.
In January, VISTA was awarded the Retrofit My Company Grand Prize of free weight loss for its employees. Collectively, VISTA Staffing employees have already lost more than 500 pounds. Executives at the company's Salt Lake City headquarters, where more than 75 employees are enrolled in Retrofit's weight loss program, have noted that employees seem "happier and more productive."
"We have witnessed firsthand how social support at work can be a key variable and asset to building healthy habits and subsequently promoting behavior change," said Retrofit Lead Behavior Coach Jennifer Plotnek, LCSW-C.
Plotnek reports that Retrofit clients at one law firm in Chicago meet every afternoon at 3:00 p.m. to walk stairs in their office building; the company also offers healthy snacks to employees several times a week.
"Clients reported that they were more compelled to increase their daily step counts when they walked with colleagues. They also posted charts displaying data from Fitbit activity trackers. This incentive-based program inspires healthy competition among its employees. The example demonstrates how to cultivate people's strengths to promote behavior change. This is a company filled with high achieving corporate executives who are tenacious in their work, but have not had prior success at addressing their health issues," Plotnek said.
Dr. Saks suggests the following changes to encourage a healthier corporate environment, based on research from Cornell University among others:
*Workplace cafeterias can offer "healthy discount cards," prepaid cards used for food purchases. The cards can be used for a discount on items such as fruits, vegetables, lean proteins and low-fat dairy products. Chips, desserts and soda can only be bought at regular prices with cash.
*Food from the cafeteria can be pre-ordered so employees can commit to their choices before being tempted by some of the less healthful food options they might encounter while waiting in line.
*By simply changing the shape of food containers, cafeterias can promote consumption of certain foods and beverages relative to less healthful foods. Larger bowls can be used for fruit and vegetables, while small plates and dishes can be used for desserts or other less nutritious foods.
*Employers can make their physical environment conducive to healthier workplaces. Offices or cubicles can come with stand-up desks, and walking paths can be part of corporate campuses (with specific times set aside for walking).
"Working toward these personal goals at the office may seem odd, but losing weight at work is clinically proven to be easier than going at it alone," said Hyman, referring to a study published in this month's issue of the American Journal of Clinical Nutrition.
According to research from Tufts University and Massachusetts General Hospital, worksites have the potential to become a central element in national efforts to reduce obesity because they have naturally occurring social groups. In theory, this type of support makes it easier to lose weight.
In spite of these findings, many employers opt for the stick instead of the carrot. According to a recent study of 800 mid- to large-size firms by human resources consultancy Aon Hewitt, an astounding six in 10 employers say that in the next few years they plan to impose penalties on employees who don't take action to improve their health.
"Our experience shows that the more successful strategy is to incentivize health improvement efforts with reward-based programs," Hyman said. "Employers should remove the stigma surrounding overweight employees and instead create learning environments where sustainable, life-long behavior changes can flourish and benefit the company for the long run. Individual progress is most likely to occur with a combination of readiness and rewards – not punishments. Companies need to lower the emotional temperature so that employees are not defensive and become open to change."
"There needs to be a shift in thinking and practice," Hyman said. "Penalties create mistrust and will eventually be counterproductive to the work environment. This is an exciting time for behavior change in the workplace. With advances in technology and data-driven programs, health care costs are going down as we implement the latest strategies that behavioral economics has to offer."
About Retrofit
Retrofit, the expert-led, data-driven weight loss program for busy professionals, is designed to deliver lasting results. Its innovative year-long program includes wireless monitoring of a client's weight, activity and sleep, as well as private lessons with a registered dietitian, exercise physiologist and behavior coach. Retrofit has raised $8 million in a Series A financing led by Draper Fisher Jurvetson (DFJ), bringing the total investment in Retrofit to $10.7 million. Retrofit can be found on the Web at http://www.retrofitme.com and (855) 4-RETROFIT. Follow the company on Facebook and Twitter @retrofitme.