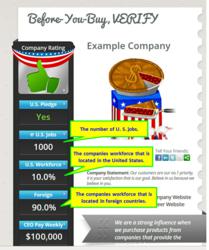 We hope that SaveOurWorkforce will encourage companies to do their part and create a stable future for all of us.
Hawthorne, CA (PRWEB) April 30, 2013
As the nation's largest companies are making record profits, and their top executives are earning more than ever. According to the American Federation of Labor and Congress of Industrial Organizations (AFL-CIO), the average middle class worker earned $34,645 while the top executives earned an average of $12.3 million.
Top executive earners include: Larry Ellison of Oracle, $96.2 million; Richard M. Bracken of HCA, $38.6 million; Bob Iger of Walt Disney, $37.1 million; Mark G. Parker of Nike, $35.2 million; Philippe P. Dauman of Viacom, $33.4 million, as reported by CNN Money, 20 top-paid CEOs, April 8, 2013.
Businesses are making more money than they have in the past, with the top executives now earning 354 times more than the typical American worker, as reported April 16 by CNN Money, CEOs Earn 354 Times More Than Average Worker. Companies are able to cut costs by outsourcing their workforce to low wage countries. This has a negative impact on the U.S. workforce, causing the middle class to shrink, salaries to remain stagnant, and college graduates struggling to find work.
"For several months students have been studying this problem and came up with a great solution using social networking," explains Ross Mazzolini, a sophomore at Texas Tech University. To help the middle class, these young people created a website called SaveOurWorkforce.org to help keep jobs in America while encouraging more reasonable CEO pay. Their free website tool, "Before-You-Buy, Verify", shows the number of US jobs a company provides along with CEO pay. Consumers can lookup companies and easily direct their purchases towards businesses that are supporting America's workforce. The database gives each company a rating by tracking the number of jobs a company offers in the United States and foreign countries. "Using this tool encourages companies to keep jobs here", explains Nestor Crespin, attending Loyola Marymount University.
"It's disheartening to hear statistics about top level executives making more than 350 times what the American worker makes," says Mazzolini. "The unemployment rate is still high, and college graduates are having a hard time finding work. We developed SaveOurWorkforce to show companies that Americans care about keeping jobs in the U.S."
SaveOurWorkforce is a place to unite the 99% who are the working families, citizens, and companies who care about America's future. By signing up for a free membership on http://www.SaveOurWorkforce.org, citizens can display their support for keeping our U.S. workforce strong. The "Before-You-Buy, Verify" tool on the website allows users to search a company's foreign vs. domestic workforce and the CEO's weekly salary, helping them make informed purchase decisions. By offering these tools, companies are given an incentive to keep jobs in America.
"By working hard in school, we are doing our part to help the U.S. workforce. We hope that SaveOurWorkforce will encourage companies to do their part and create a stable future for all of us," says Mario Palma, a freshman at El Camino College.