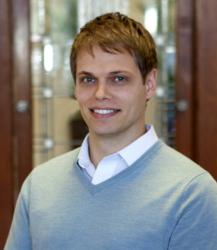 "Multifamily acquisitions and development are key components of our business growth plan. Adrian's role will be critical to our continued success as we look for new opportunities to grow our business," says Tom Brenneke, President.
Portland, OR (PRWEB) April 30, 2013
Adrian Boly has been promoted to Director – Acquisitions, a new role for the company, in response to recent growth in acquisition and development activity at Guardian. His primary responsibility is to originate new acquisition and development opportunities for placement within Guardian's multifamily portfolio.
Adrian has more than nine years of real estate investment, development, asset management and disposition experience. He joined Guardian Real Estate Services (Guardian) in 2011 as an asset manager where he provided analysis and oversight to a portfolio of Guardian owned assets. Prior to Guardian, Adrian worked with Home Forward and ScanlanKemperBard Companies in acquisition and asset management roles.
Adrian earned his Bachelor of Arts degree in Political Science from the University of California, Berkeley.
About Guardian Real Estate Services:
Founded in 1971 with headquarters in Portland, Ore., Guardian Real Estate Services LLC is a privately held, vertically-integrated, real estate management, investment and development firm. Guardian's diverse real estate experience offers property owners and investors a valuable combination of market expertise and services. With over 1,000 employees in eight states, Guardian's management portfolio consists of more than 16,500 multifamily units in 260 properties. The company owns approximately 25 percent of its portfolio.