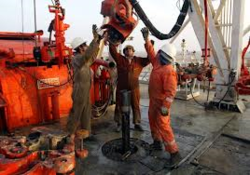 Safety Excellence is a result of Operational Excellence, and Operational Excellence is a result of Leadership Excellence.
Atlanta, GA (PRWEB) April 30, 2013
Tens of thousands of engineers, technicians, executives, operators, scientists, and managers from the oil & gas industry will descend upon Houston, Texas in a matter of weeks as the 44th annual Offshore Technology Conference begins on May 6. Consultants from the leading provider of continuous improvement solutions, Afterburner, will take its prominent program offerings to the event, where they will discuss the benefits of the combat-proven techniques as well as the recent partnership with EWI Re, Inc.
Afterburner's risk management solutions are centric to the Flawless Execution® model, a set of simple, scalable leadership tools for High Reliability Organizations based on combat-proven, life-saving military techniques and tools. This innovative model provides a system of communication, accountability, and leadership that will mitigate internal and external threats while closing execution gaps and accelerating performance. By focusing on the development of front line leaders, the Flawless Execution addresses the criticality of organizations where errors are costly in both monetary and human capital terms.
Aside from the immediate organizational results, the benefits of an Afterburner training are compounded by the firm's recent partnership with EWI Re, Inc. The union was developed to identify and deliver hard-dollar value to clients through merging the tangible benefits of safety excellence. The Dallas-based reinsurance intermediary is an appointed Lloyds of London broker and has various capabilities that drive down the insurance cost of risk and capture substantial economic value to clients who have participated in an Afterburner program. Several of EWI Re's brokers will be joining Afterburner in booth #863 to meet with attendees and conduct complimentary risk assessments for pre-scheduled appointments.
Afterburner's VP of Safety and Leadership Development, Ron "Beav" Horton, will be attending the conference. Ron was the 20th Commanding Officer of the nuclear powered aircraft carrier, USS ENTERPRISE (CVN-65) and a former Rear Admiral Task Force Commander in the US Navy. His success in dynamic, challenging, and hazardous environments brings a wealth of expertise to those looking to achieve safety and operational excellence through the development of their leaders.
All pre-scheduled appointments will have the chance to win one of two authentic, leather G-1 Naval Flight jackets. To pre-schedule an appointment with Ron and the Afterburner/EWI Re team at booth #863, call 404-835-3506 or email atoal(at)afterburner(dot)com.
To learn more about Afterburner's risk management and leadership development solutions, visit http://www.afterburnersafety.com or call (877) 765-5607.
About Afterburner
Afterburner Inc., founded in 1996 by U.S. Air Force fighter pilot Jim "Murph" Murphy, trains organizations around the world in the simple, scalable improvement processes of Flawless Execution through the Three E's—Empower, Equip, and EmbedSM. With a client list that includes over 30% of the U.S. Fortune 500, Afterburner is among Inc. Magazine's "Inc. 500 List of America's Fastest Growing Companies" and has been featured in the Wall Street Journal, Business Week, Financial Times, Newsweek, and Meetings and Conventions Magazine. Afterburner has also appeared on CNN, CNBC, Fox News, and Bloomberg News. For information on Afterburner's Flawless Execution model, please visit http://www.afterburnerseminars.com.