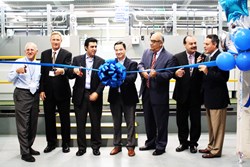 "CPI assists BAP Aerospace de Mexico with administrative services so I can focus on my specialty, business development and special processing. This flexibility freed up my time which allowed BAP to concentrate solely on Nadcap certification..." Maldonado
Tijuana, Baja California, Mexico (PRWEB) April 30, 2013
Barry Avenue Plating's newest subsidiary and Tijuana facility, BAP Aerospace de Mexico, announced it received the first two of three Nadcap accreditations for Chemical Processing (CP) and Aerospace Quality Standards (AQS). BAP is the first company in Tijuana, Baja California to receive this accreditation and the fifth in Mexico as a whole. BAP's newest facility in Tijuana is located just minutes south of San Diego, California and is an extension of their long-established services operating out of Los Angeles. Founded in 1947, BAP has an established reputation to go along with their already longtime certified Los Angeles facility. With their newest facility in Tijuana, BAP aims to serve every production need of their clients in nearshore Mexico.
Nadcap (National Aerospace & Defense Contractors Accreditation Program) is a vital international quality assurance organization that oversees the processing and production of materials and products destined for use in the aerospace and defense industry. Sensitive parts such as those used on commercial aircraft require various stages of testing and certification before use or sale, making the aerospace industry a niche for only the experienced special processes provider. After nearly 18 months of surveys and facility audits, BAP Aerospace de Mexico is thrilled to be through their first phase of accreditation.
"Now with this first phase completed, we are moving forward with qualifying for Nondestructive Testing (NDT)," said Cruz Maldonado, President of BAP Aerospace de Mexico. When commenting about the high level of detail in preparing and operating a facility according to Nadcap and ISO standards, Maldonado credited his ability to concentrate on his business's development leaving administrative services and Mexican corporation establishment to Co-Production International. Maldonado continued, "Our Nadcap accreditation took a lot of people, processes and experience. With your average facilities receiving 25 faults during Nadcap surveys, we are ecstatic our new Tijuana facility only received 2."
"Co-Production International assists BAP Aerospace de Mexico with administrative services so I can focus on my specialty – business development and special processing. This flexibility freed up my time which allowed BAP to concentrate solely on Nadcap certification and facility readiness," Maldonado commented, tipping his hat to the CPI team responsible for setting up legal structure and the handling of day-to-day administrative duties of BAP's newest venture in nearshore Mexico. With over 270 aerospace manufacturing facilities in Mexico according to 2012 global market report from NAI Mexico, Baja California boasts the largest big-names roster, and this year welcomes BAP and their newly accredited facility to the region. Now with the recently received Nadcap accreditation, BAP's facility is up and running while CPI continues to provide administrative services such as accounting, HR activities, tax reconciliation, as well as logistics and customs.
Aerospace products from the rough metal finishing to final assembly require various accreditations through the Nadcap administered surveys. Often taking more than a year to complete full facility and processes inspections, special processing companies such as BAP rely on Nadcap certification because their clients do. Maldonado explained that many of his 3,000 plus customers stemming both from US and Mexico operations, require Nadcap accreditation in facilities that process and produce aerospace and defense industry products.
"Eaton Aerospace, Lockheed Martin, Zodiac Aerospace, Honeywell, Boeing, Airbus, Cubic Defense and others major players in the Aerospace, Military and Commercial Airplane industries demand it of us and we're happy to comply," said Maldonado of this the aerospace industry's inter-working. He closed with, "Not only has this certification opened up near-shore processing to our existing clients in the United States, but to other facilities throughout Mexico. It really is a win-win for everyone."
About Co-Production International: Strategically headquartered in San Diego, CA, CPI is the premiere Administrative Services Provider in Mexico. As your Administrative Services Provider our role is to facilitate the successful expansion of your manufacturing operation. We handle the complete set-up of your operation and manage the day-to-day administrative duties in accordance with Mexican regulations allowing you to control and focus 100% on manufacturing. For more information visit http://www.co-production.net
About Barry Avenue Plating/BAP Aerospace de Mexico: Established in 1947 BAP serves the metal finishing, processing, production and final assembly for various industries including Aerospace and Electronics sectors. BAP's Los Angeles facility is Nadcap accredited CP, NDT and AQS and its Tijuana facility newly Nadcap CP and AQS (AC 7004) accredited. For more information visit http://www.barryavenueplating.com